Fairmont Mount Kenya Safari Club
Property Description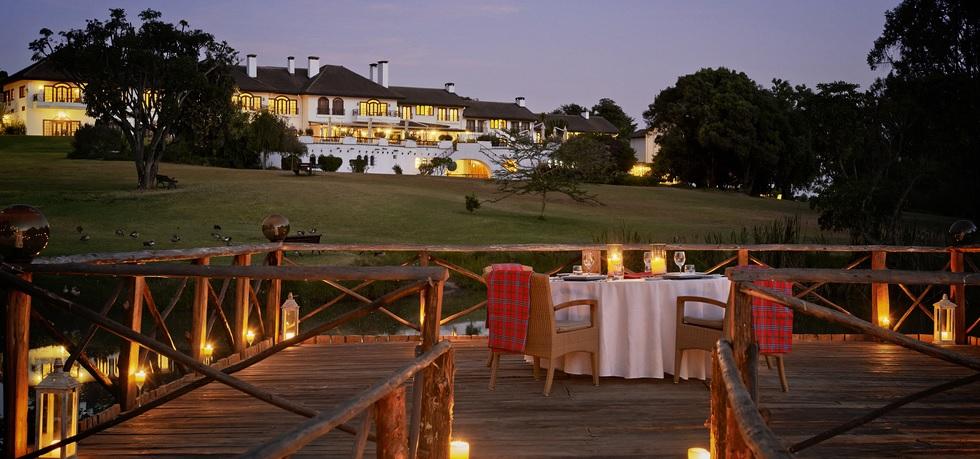 World's Top 50
~ Travel + Leisure
Tucked into 100 sprawling acres of landscaped gardens under the gaze of snow-capped Mount Kenya, the historic Fairmont Mount Kenya Safari Club has hosted luminaries from Winston Churchill to Bing Crosby. The former retreat of movie star William Holden continues to distinguish itself today with an exceptional level of guest attention and every comfort the 21st century traveler requires.
A wealth of leisure options await onsite, from horseback riding and biking to golf, tennis, basketball croquet, lawn bowling, table tennis, swimming, spa treatments, fitness club workouts, and more. Canine ambassadors Tusker and Grammy provide a warm welcome while the resort's own animal orphanage connects guests to local wildlife. Just outside lie many of Kenya's greatest attractions, including world-class safari experiences at Mount Kenya National Park and Aberdare National Park, making the Fairmont a ideal base for an unforgettable Nanyuki adventure.
In addition to gourmet dining at Tusks Restaurant and Terrace, guests enjoy a singular experience at Zebar, the resort's lounge, which lies directly on the equator. Here, servers cross between the southern and northern hemispheres as they take and deliver cocktail and afternoon tea orders.
In the evening, guests retreat to one of 120 guest rooms, suites and cottages, each with its own wood-burning fireplace and magnificent view.

Dining
Tusks Restaurant and Lounge: With views of magnificent Mount Kenya, the resort's signature restaurant entices guests with a menu showcasing Central Kenya's exceptional bounty for breakfast, lunch and dinner. Guests can dine al fresco on the terrace or indoor by the original grand fireplace.
Zebar: Spanning the northern and southern hemispheres with its strategic placement on the equator, Zebar provides a relaxed, inviting setting for cocktails, dining and afternoon tea, with stunning mountain views from the lawn terrace.
Duma's Corner: With a wood-burning fireplace as its centerpiece, this cozy TV and cigar lounge features a collection of vintage photographs that harken back to the resort's Hollywood past.
Pool Bar: Refreshing beverages and light snacks are served poolside.
Outdoor Dining Experiences: The resort's talented culinary team can arrange highly memorable dining excursions from breakfast on the slopes of Mount Kenya to lunch along the River Likii.
Spa and Fitness
The new Health & Fitness Center inspires workouts with breathtaking views and the latest equipment from Technogym. Managed by a professional personal instructor, the fitness center features cardio and isotonic machines, men's and women's changing rooms and lockers, and a well-appointed relaxation lounge. Three spa treatment rooms, including one for couples, offer a serene setting for pampering Asian and Scandinavian body treatments, facials, hand and foot care.
Weddings and Meetings
The Fairmont Mount Kenya Safari Club hosts meetings, social events and weddings in a variety of sophisticated venues. Meeting rooms, the largest of which accommodates up to 300, are outfitted with internet connectivity, audiovisual equipment, adjustable lighting and air conditioning. The resort's spectacular grounds are ideal for outdoor events and group activities.
The Fairmont delivers dreamlike destination weddings in settings that range from a delightful rose garden with flowing stream to an elegant Ballroom seating up to 200. An intimate chapel is available for weddings of up to 15.
Top FAIRMONT MOUNT KENYA SAFARI CLUB Selling Points
Adjacent to Mount Kenya National Park, part of a UNESCO World Heritage Site, as well as Aberdare National Park
Set in over 100 acres of landscaped gardens
Originally the retreat of movie star and Club founder, William Holden, the Club's illustrious former members have included Winston Churchill and Bing Crosby.
A multitude of recreational offerings including: horseback riding, golf, croquet, a bowling green, table tennis, swimming, an animal orphanage, nature walks with the Resident Naturalist and climbing of Mt. Kenya.
Ideal location with an enormous range of excursions and activities nearby.
Tusks Restuarant, one of the most exquisite restaurants in Nanyuki, offers a sophisticated indoor set up which extends onto a terrace with a great view of majestic Mount Kenya.
Guest rooms feature wood-burning fireplaces and magnificent views of Mount Kenya and the surrounding landscape.
Top Nanyuki Selling Points
Mount Kenya is the second highest mountain in Africa, second only to Mount Kilimanjaro. On its slopes are three very remote high altitude lakes. Lake Rutundu at approx 10,000ft, Lake Alice, beneath Ithanguni, at around 11,000 ft and Lake Ellis at 12,500ft. Fishing safaris can be arranged
Guided game walks and sightseeing in the Forest Reserve are available throughout the day. Clients are escorted by a naturalist and armed Kenyan Wildlife Rangers – emphasis is placed on the flora and fauna, the bird-life, insects and the ecosystem.
Visitors can also ride on horses through the Forest Reserve, providing a unique vantage point where one can get very close to the animals.
Mountain biking enthusiasts can ride up the slopes of Mount Kenya with an expert rider.
The animal orphanage nearby the Fairmont Mount Kenya Safari club focuses on the re-introduction of the endangered Mount Kenya antelope – the bongo. Visitors are welcome at various times throughout the day.
Click here to check rates and availability or to confirm a reservation at
Fairmont Mount Kenya Safari Club.

Hotel Promotions
Click here for a listing of current promotions at Fairmont Mount Kenya Safari Club
Hotel Information
Fairmont Mount Kenya Safari Club
PO Box 35 | Nanyuki, Kenya
Phone:
+254 (0) 20 2265555
Group Director Sales & Marketing - Kenya:
Guillaume Durand
Group Director Sales & Marketing - Kenya Email:
Affiliations Information
Fairmont Hotels
Virtuoso
Signature
Reservations
No. of Rooms:
120 guest rooms, suites and cottages
Currency:
Kenya Shilling (KES)