VICTORIA-JUNGFRAU Grand Hotel and Spa
Property Description

"Take pleasure in the richness and history of this magnificent hotel situated between two lakes and overlooking Interlaken's central green."
One of the Top Hotels in Switzerland
~ Condé Nast Traveler Readers' Choice Awards 2017
Wellness Aphrodite 2017 for SPA NESCENS
~ TripAdvisor 2015 Certificate of Excellence ~
Nestled in a distinctly Swiss landscape of lakes and mountains, Interlaken is a year-round delight. And for well over a century, one of its most welcoming attractions has been the VICTORIA-JUNGFRAU, a grand hotel that has maintained its elegance and matchless hospitality throughout a long and venerable history.
Built in 1865, the VICTORIA-JUNGFRAU Grand Hotel and Spa has greatly influenced Interlaken's reputation among the world's most attractive year-round destinations. The hotel offers the ultimate in first-class amenities and enjoys a privileged location, with an unobstructed view of the famed Jungfrau mountain range.
Accommodations are light, airy and radiate warmth, with fine fabric wall coverings, sitting areas, luxurious baths and mountain views. Individually decorated, they range from spacious guest rooms to the spectacular Tower Suite, located in the hotel's distinctive rooftop dome, to the 915-square-foot Yash Chopra suite, decorated in honor of the famous Indian director. The new CLUB rooms at VICTORIA-JUNGFRAU Grand Hotel & Spa are sure to please the most discerning of travelers, featuring special services, advantages and amenities ranging from complimentary soft drinks in the mini-bar to priority seating in the hotel's restaurants.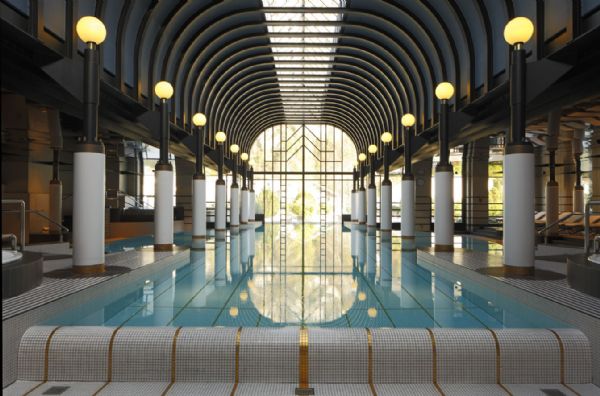 With the in-house Spa Nescens, guests can benefit from a vast array of fitness, wellness, beauty and better-aging treatments drawing on the scientific and medical expertise of the Nescens brand and the Center for the Prevention of Aging at the Cinique de Genolier.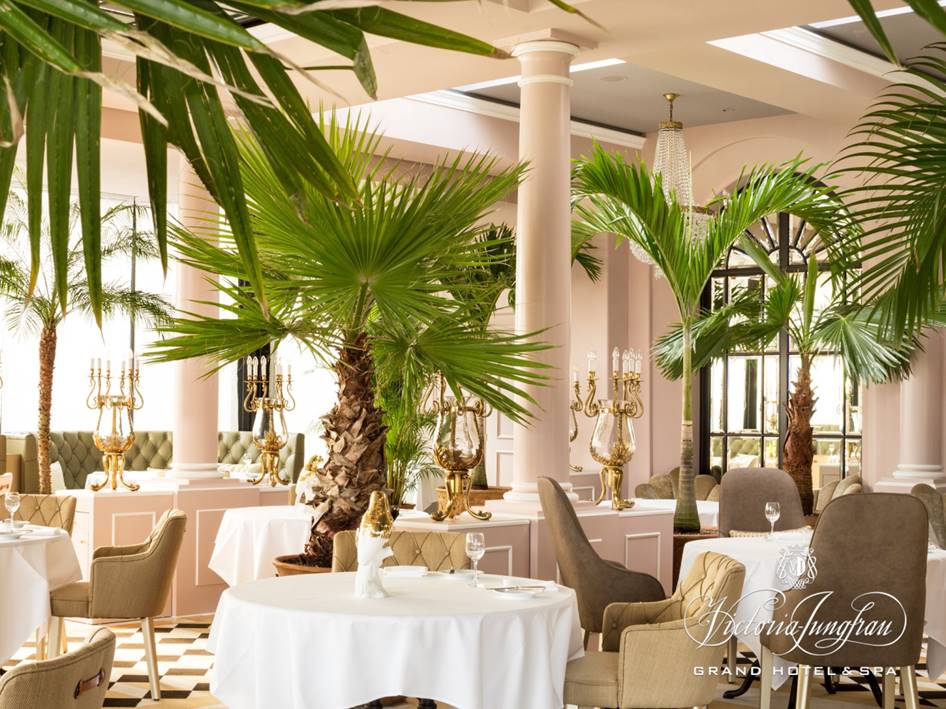 Dining
La Terrasse:  (16 Gault Millau Points) The menu of the restaurant "La Terrasse" is inspired by the cuisine from the South of France. The fresh and warm colors, greenery and furnishings are reminiscent of an "Orangerie" of this region. An extensive wine list includes leading champagnes and a generous selection of Swiss wines, carefully chosen vintages from France and Europe and other gems from around the world. Open for dinner.
Sapori: The hotel's new Italian restaurant and pizzeria, located right on Interlaken's main boulevard, offers antipasti, subtle meat-based entrees, classic pasta dishes and a wide selection of tasty vegetarian dishes. One highlight of the restaurant is the pizzaiolo, who makes guests their favorite pizzas right before their eyes. The menu is complemented by a wide selection of wines by the glass and special vintages from the best growing regions in Italy. Open for lunch and dinner.
Victoria Terrace: Overlooking the Jungfrau and Interlaken, the Victoria Terrace is a beautiful place to spend time outdoors while dining on sweet treats and finger foods.
The Garden: The new outdoor restaurant at the VICTORIA-JUNGFRAU Grand Hotel & Spa offers outstanding mountain views, fresh fruit juices and barbequed specialties. All dishes and drinks are also available for take-out.
Victoria Bar:Enjoy a snack, cocktail, whiskey and cigar or nightcap at this popular spot which features a changing pianist from 6:00 pm onward. Afternoon tea on Saturdays and Sundays from 2:30 – 5:30 pm.
Spa Bistro: Cozy and casual, the Spa Cafe serves vitamin-rich fruit juices, aromatic teas and other drinks, as well as a selection of healthy snacks and tasty titbits.
Salon Davidoff: Attached to the Victoria Bar, Salon Davidoff is a haven of peace and pleasure for the serious smoker. Guests can choose from an exclusive selection of superior cigars, comprising the finest brands.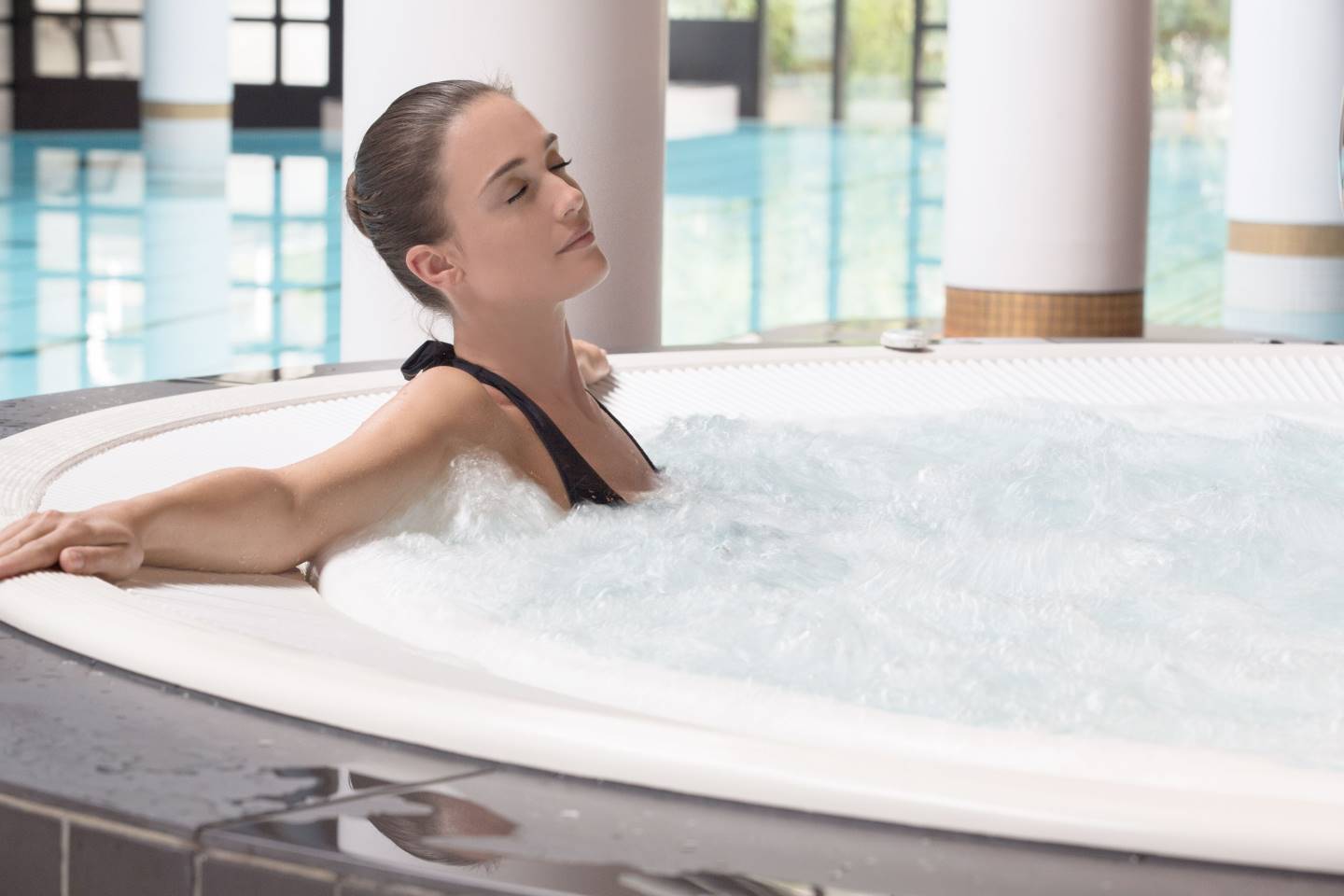 Spa and Fitness
The luxurious 5500 m2 SPA NESCENS VICTORIA-JUNGFRAU opens up an entirely new world of wellness and well-being.
Besides wellness treatments, the VICTORIA-JUNGFRAU SPA Nescens also comprises comprehensive fitness and health offerings, beauty and better aging treatments, an award-winning hairdressing salon and the SENSAI SELECT SPA . The architectural center of the SPA is the impressive pool hall with its spacious swimming pool, reminiscent of Roman bathing culture. Other facilities include two indoor whirlpools and a special open-air hot salt water whirlpool with panoramic view, a steam bath, a Finnish and bio sauna, lifestyle showers with active light therapy, solariums and relaxation areas.
NESCENS
The Spa Nescens draws on the scientific and medical expertise of the Nescens brand stemming from the Center for the Prevention of Aging at the Clinique de Genolier (Switzerland) created over 15 years ago by Professor Jacques Proust, a pioneer in the realm of the biology of aging and anti-aging medicine. The Spa Nescens offers the very best, whether you wish to free yourself from stress in order to regain a deep-seated sense of well-being, recapture your dynamism, improve your body shape or slow down the effects of time; the ultimate aim being to live better, for as long as possible.
4 to 7-day personalized programs
Medical Consultations
Better-aging programs
Nutrition and Coaching
Body treatments
Facials
Cosmeceutical procedures
Fitness and sports coaching
Osteopathy / Physiotherapy
SENSAI SELECT SPA
Hair Salon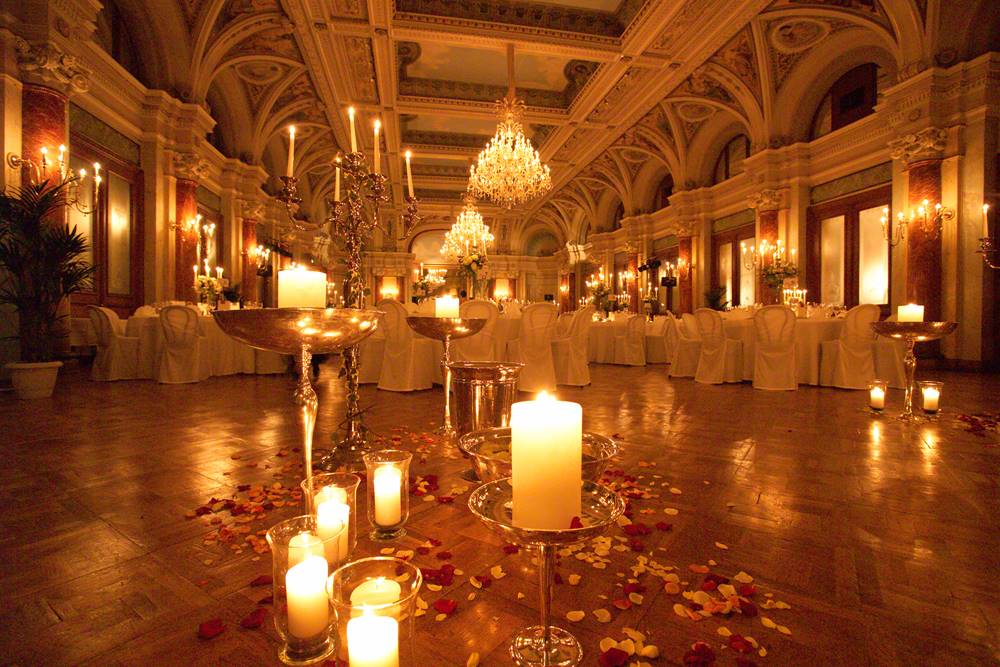 Meetings and Events
In the enchanting and luxurious ambience of the VICTORIA-JUNGFRAU Grand Hotel and Spa, weddings, christenings, birthdays, family reunions and company celebrations are transformed into unique events. Guests may choose from a total of 20 different function rooms for dazzling parties and grand occasions with capacity ranging from 4 – 400 participants.
For a rewarding meeting, successful seminar or a large convention, the VICTORIA-JUNGFRAU provides perfect organization, faultless infrastructure, and grand-hotel atmosphere, making every event a special occasion. Event designer Claudia Hugentobler tailors every event to host's needs, down to the smallest detail.
Sports and Leisure
Children's activities: Carefree holidays and fun for the whole family are assured at the VICTORIA-JUNGFRAU. From parents and grandparents to tiny tots, there's something for everyone. Family excursions abound in and around Interlaken. Special family packages are on offer and family suites are available (many with connecting doors).
Golf: An 18-hole championship course is nearby.
Tennis: The hotel features two indoor and three outdoor clay courts (covered in winter).
Skiing: Guests enjoy complimentary bus service to the heart of Interlaken's ski region.
Other activities: Interlaken abounds with outdoor pleasures. Among the many options are snowshoe trekking, hiking, biking, sledding, paragliding and river rafting.
Mystery Park: A globally unique educational theme park that attempts to investigate the riddle of our origins. Unexplained phenomena, the Mysteries of the World, are presented interactively in three dimensions in seven theme pavillions. Additional attractions guarantee entertainment for the whole day. (http://www.mysterypark.ch/)
Top Selling Points of VICTORIA-JUNGFRAU Grand Hotel and Spa

One of Europe's largest spas, at more than 5,500 square meters.
Beautiful location between two lakes, with views to Mount Jungfrau — "the Top of Europe."
Whiskey and wine tastings.
Wunderhuus children's program for young guests, featuring a children's entertainer and Splash Hour.
two restaurants, two bars and 22 conference and banqueting rooms.
One of Europe's largest spas with more than 5,500 sqm.
Whiskey and wine tastings.
30-minute ski shuttle to nearby slopes.
A wide array of suites to accommodate individuals needs and tastes.
The heritage of a 150-year-old Swiss hotel.
An adventure paradise, with opportunities for golf, skiing, hiking, biking, river rafting and paragliding
Top Interlaken Selling Points
Spectacular nature, from Junfraujoch (the "Top of Europe"), Schilthorn – the 007 James Bond Mountain, to impressive waterfalls, including a 200-meter-deep gorge.
Harder Kulm viewing platform above Interlaken
Lake cruises on Lake Brienz and Lake Thun
Hiking trails with superb panoramic views.
Snow activities including skiing, snowboarding, cross-country skiing, snow tubing, snow golf, heli-skiing and slope-gliding.
Winter activities including winter hiking, sledging, igloo building, ice skating, ice hockey, curling, winter cruises and Christmas Market.
Lake swimming and lakeside steamer cruises.
High-alpine glacier world.
Summer sports for the family, including 18-hole golf, river rafting, kayaking, sailing, mountain biking, fun cars and quad bikes, glacier trekking.
Paragliding, hang-gliding, bungee jumping and skydiving for thrill-seekers.
A multitude of children's attractions and theme parks, including Ballenberg open-air Swiss museum, Jungfrau Park – Mysteries of the World, the illuminated caves at Beatenberg and hands-on workshops at Funky Chocolate Club, Interlaken.
Click here to check rates and availability or to confirm a reservation at
VICTORIA-JUNGFRAU Grand Hotel & Spa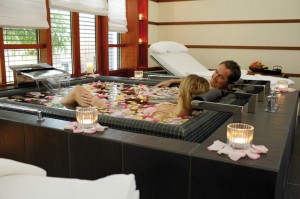 Hotel Promotions
Click here for a full listing of promotions at VICTORIA-JUNGFRAU Grand Hotel & Spa
Hotel Information
VICTORIA-JUNGFRAU Grand Hotel and Spa
Hoeheweg 41 | Interlaken, Switzerland
General Manager:
Urs and Yasmin Grimm Cachemaille
Director of Sales & Marketing:
Ms. Stéphanie Myter
Director of International Sales:
Mr. Ryan Imboden
Director of International Sales Email:
GDS CODES:
Sabre: LW 13157
Apollo/Galileo: LW 8459
Worldspan: LW 1607
Amadeus: LW ZIN 607

Affiliations Information
Victoria-Jungfrau Collection
Reservations
Reservations Manager:
Ms. Angela Bigler
No. of Rooms:
216 rooms, including 106 junior suites and suites
Air-conditioning:
Most Rooms
Airport:
Bern - 50 mins.
Zurich - 1 hr 45 mins.
Geneva - 2 hrs 30 mins.
Basel - 1 hr 50 mins.
Also direct-rail connections to all four cities
Meal Plan:
Breakfast, Half-Board, Full-Board