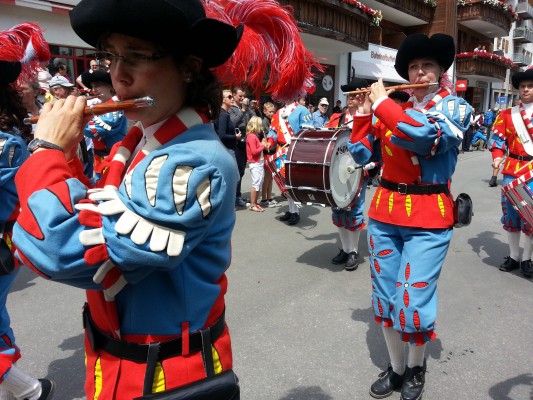 Every year on the second weekend in August, at the foot of the Matterhorn in Zermatt, Switzerland, a grand Swiss tradition, the Folklore Festival, takes place. What started out as a small parade over 40 years ago had evolved into one of the largest cultural events of the summer season in Zermatt.
The Folklore Festival parade features over fifty different folklore groups. Through Zermatt's red geranium filled high street called The Bahnofstrasse, over one thousand two hundred participants make their way from the main village square outside the main railway station. The participants are able to show off their colorful costumes from stories and times long ago, while others prefer to don their Swiss traditional folklore dress. Everyone in the parade participants in a whirl of dance and color.
Different groups and clubs branch off after the parade to perform songs, live music and dance presentations near Oberan Matten and on the Kirchplatz. The Swiss atmosphere is undeniable among the yodellers, alphorn players, Swiss accordian players, dining and food stands, children's activities and other enthusiastic and friendly gatherings.
The parade lasts about an hour and half. Young and old participants and viewers enjoy this yearly tribute to Swiss culture. After the parade has concluded, the festivities continue with lots of folk music and dancing, games, children's activities, Swiss foods, wines, beers and good cheer.
If you are able to be in Zermatt in August, be sure to check with your hotel and get the lates details of the Swiss Folklore Festival. For some of the best accommodations in Zermatt, Switzerland, we highly recommend the beautiful Hotel Monte Rosa.