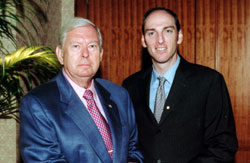 Gregory J. Schwab, MBA – President & Chief Executive Officer
Gregory has the unique privilege of having both lived and worked in luxury hotels throughout his entire life. His extensive knowledge of the luxury travel industry stems from lifelong experiences of personal travels and residing in 5-star hotels, working in luxury hotels and obtaining an impressive post-graduate education.  Gregory held numerous hotel positions before joining The Leading Hotels of the World, Ltd. in 1992.   He spent the next seven years in sales management responsible for the top LHW accounts on the East Coast.  In 2000, Gregory graduated from Long Island University with an MBA (double masters) degree and was awarded Grand Marshall of Graduate Ceremonies for top honors student in the Marketing School.  With a solid career and educational background, Gregory decided to join Elite International Luxury Hotel Representation and take over the day-to-day responsibilities for the company.  With the assistance of a dedicated team of professionals, Gregory has developed ELITE into one of the most successful hotel representation companies in the world.
Specialization: Hotel Management, Operations Management, International Business, Direct Sales and Marketing.
George D. Schwab – Founder
Legendary hotelier, George D. Schwab, founded Elite in 1992. A pioneer in the luxury hotel industry, George opened and managed eight FOUR SEASONS hotels, including the first Four Seasons Hotel in the United States –  the Clift Hotel in San Francisco. After a 30-year tenure with the company, the last 12 years at the helm of the world-renowned Pierre Hotel in New York, George retired from the company and launched one of the first hotel representation companies in the United States. During the next ten years, George traveled across the country introducing a collection of luxury European hotels to the top travel agencies in the country, while at the same time, holding the position as Chief Site Inspector for The Leading Hotels of the World, Ltd. George has also been involved with contract negotiations and hotel consultancy for TAJ Hotels, Swissotels and the World Bank.
Specialization: Hotel Management, Operations Management, and Marketing
Sandy A. Schwab– Director of Sales & Marketing, East Coast
Sandy has an extensive career in the luxury hotel business.  She began her hotel career as a sales manager responsible for the entertainment accounts at the Orient Express Windsor Court Hotel in New Orleans.  Sandy worked as the Director of Sales & Marketing – North America for the Royal Demeure Hotel Collection in Italy and Guoman Hotels in London.  Additionally, Sandy held the position as Director of New Business Development for the renowned Waldorf Astoria in New York and Executive for Leisure Sales at the ultra-exclusive Ocean Reef Club in Key Largo, Florida.  Sandy has a diverse background having worked in the hotel, bridal and technology industries.  Sandy has over 20 years of experience in the hospitality industry and has developed outstanding relationships with many key decision makers and travel producers in the luxury travel industry.
Specialization: Direct Sales – upscale leisure travel and entertainment segments, Bridal – destination weddings & honeymoons.
Jeannie T. Schwab, Esq. – Director of Sales & Marketing, West Coast
Like her brother, Jeannie grew up in the luxury hotel business and held numerous hotel positions at luxury hotels, including Housekeeping Manager, Reservations/Rooms Division Manager, Front Office Manager and Head Concierge.  After careful deliberation, Jeannie decided to follow a career path in the legal profession and became a family law attorney, eventually opening her own practice. In 2009, recognizing that a constant presence was essential for a successful representation company, Gregory convinced Jeannie to make a career change and open and manage an ELITE representation office in Los Angeles.   The opening of a second office has increased overall market coverage by 35%. Jeannie's upbringing, career experiences and education have made her transition back to the hospitality industry an easy one. Her passion and enthusiasm are unsurpassed, leading to a significant increase in production from the high-end leisure and entertainment business segments on the West Coast.
Specialization: Direct Sales, Marketing Management, and Communications Management.
Laura Watt– Director – Hotel Relations
Laura has an extensive background in the hospitality industry.  She began her luxury hotel industry career at The Leading Hotels of the World, Ltd.  Laura was the personal assistant to the Director of Operations and was also responsible for organizing site inspection trips and VIP arrangements for LHW's top accounts.  In 2000, Laura joined ELITE and has been an integral team member for the company.  Laura is a highly-skilled individual with over 20 years of luxury hotel industry experience. She is incredibly reliable and detail-oriented, often having to multi-task numerous hotel projects – always with success. Laura has developed a strong, long-lasting relationship with the top travel companies in the United States, affording ELITE the opportunity to make sales appointments and host events with the most important decision makers in the luxury travel industry.
Specialization: Organizational Management, Communications Management.