Property Description

Africa's Leading Airline Brand, Business Class and Economy Class
~ World Travel Awards 2020
Kenya Airways, a member of the Sky Team Alliance, flies to over 53 destinations worldwide, 42 of which are in Africa, and carries over four million passengers annually. The airline was voted Africa's Leading Airline in the World Travel Awards for the past two years and boasts a fleet of 32 aircraft that is the most up-to-date in Africa.

As of October 29, 2018, Kenya Airways has launched a much-anticipated non-stop flight between NY/JFK and Nairobi aboard the new Boeing 787 Dreamliner, with full flat beds in Business Class/Premier World, as well as a spacious Economy cabin.

Kenya Airway's award-winning lounges are designed with African landscapes in mind and provide comfort and exclusivity in a serene atmosphere. The spacious lounges were conceptualized after extensive customer research of flyer needs.
Nairobi's Jomo Kenyatta International Airport boasts dedicated Kenya Airways and Sky Team terminals featuring the new Simba and Pride Lounges, 30 check-in counters (six dedicated to Sky Priority and Silver Elite guests), a dedicated dining area, business center, sound-proof sleeping area and complimentary Wi-Fi.
The lounges at New York's JFK Airport feature Business Experience Center counters fitted with the latest Samsung tablets, alcove seating with universal sockets and complimentary high-speed Wi-Fi, as well as quiet areas, a snack bar, a napping area, a smoking room, and fully-fitted showers.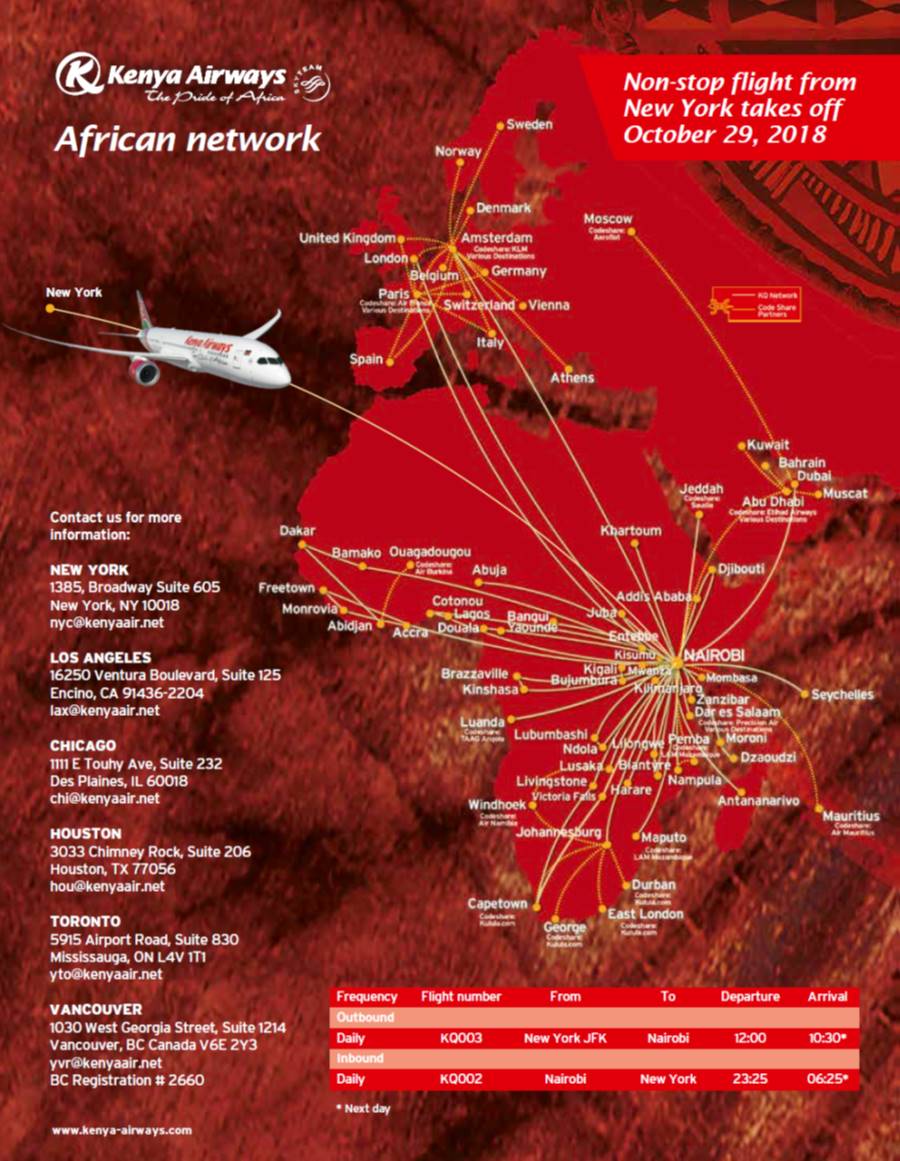 Kenya Airway's fleet of 32 aircraft is the most up-to-date in Africa. Long-haul flights offer the comfort of the new Boeing 787 Dreamliner, and short-haul flights use both Boeing and Embraer aircraft.
Boeing 787-8 Dreamliner
Premier World: 30 Seats
Full flat-sleeper seat
31 inch seat width
Forward-facing 2-2-2 configuration
15.3 inch personal independent film screen
AVOD: audio video on demand
Full 176 degree recline
Three-course / Three-choice menu
Laptop power points
Mood lighting in cabin
Economy: 204 seats
32 inch seat pitch
18.5 inch seat width
3-3-3 seating configuration
Personal seatback 10.5 inch video screen
AVOD: audio video on demand
6 inch reticulated recline
Two-course / Two-choice menu
Additional drink holder, coat hook and personal storage
Height and contour adjustable seats
Terminal 1A at Jomo Kenyatta International Airport, Nairobi
Dedicated Kenya Airways and SkyTeam Terminal
Featuring the new Simba and Pride Lounges
New arrivals hall
30 check-in counters; 6 dedicated to Sky Priority and Silver Elite guests
WiFi
Dedicated dining area
Business Center
Sound-proof sleeping area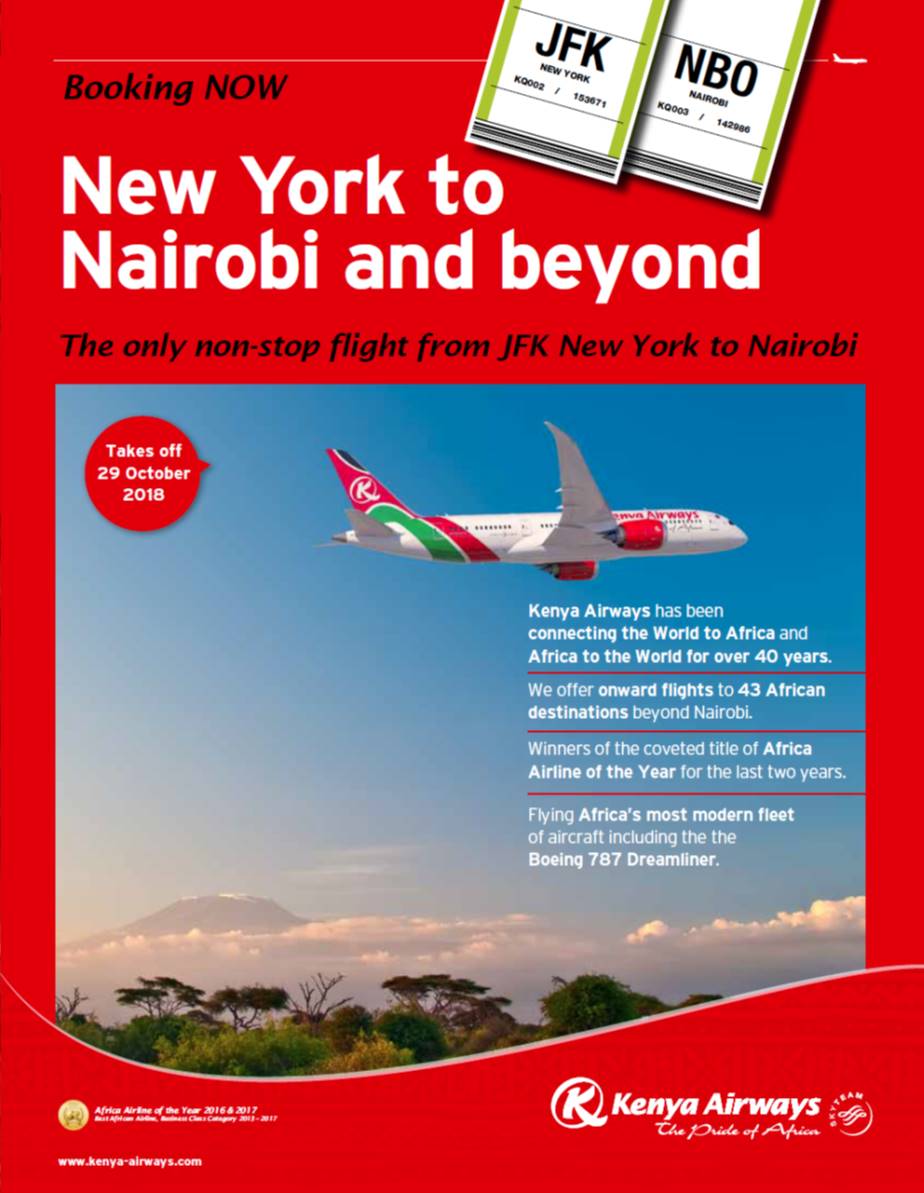 Hotel Information
Kenya Airways
| New York/Nairobi, Kenya Airways