Property Description
The 2023 Top 25 Historic Hotels Worldwide® Most Magnificent Ceilings and Domes List
~ Historic Hotels Worldwide
Experts' Choice Award 2022
~ Tripexpert
Superb Hotel 2021 (9.0/10)
~ Hotels.com~
Global Biorisk Advisory Council® (GBAC) STAR™ Accreditation 2021
acknowledging the most stringent protocols for cleaning, disinfection and infectious disease prevention in the hotel's facilities
100 Italian Excellences, Hotels
~ Forbes Italy and So Wine So Food 2020 Guide of Italian Excellences ~
The Hotel Bristol Palace is an elegant and historic landmark in the heart of the bustling city of Genoa with a prestigious address on Via XX Settembre, Genoa's picturesque main street, surrounded by stylish shops and just steps from the must-see attractions of Italy's largest seaport.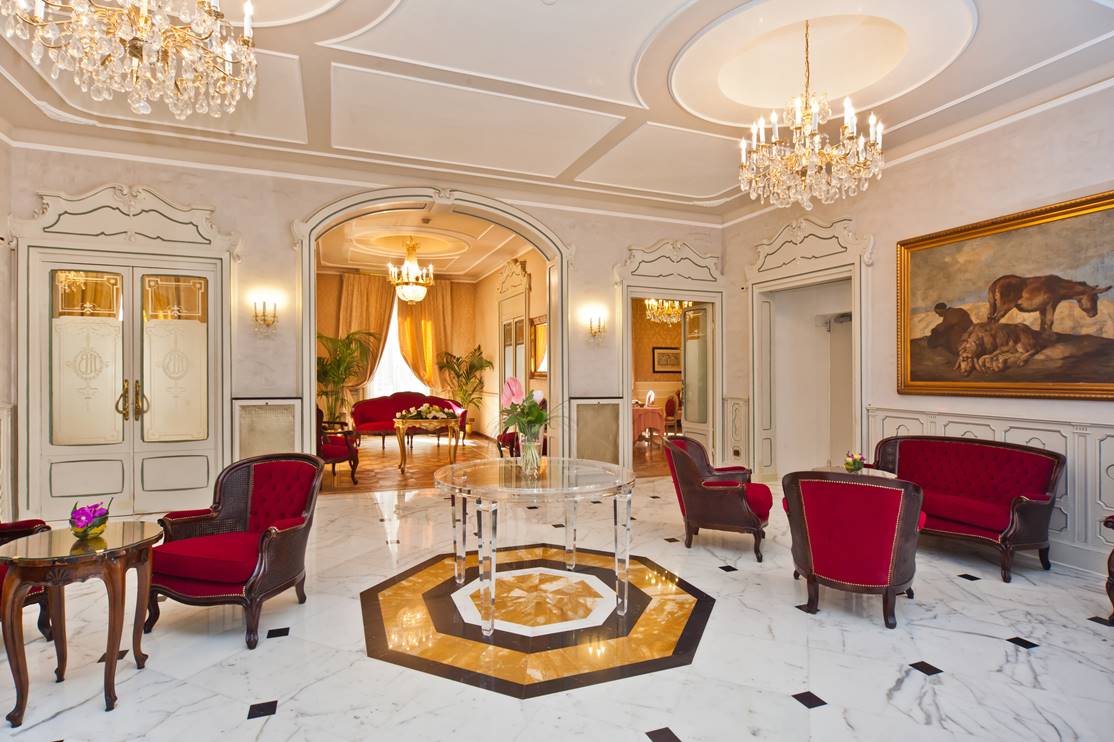 Walk through the hotel's crystal revolving door, step foot onto the luxurious white marble floor, and an upward glance reveals a dramatic elliptical staircase, which is the centerpiece of this grand hotel. Seemingly suspended in space, it rises from the lobby to the top floor in a spectacular spiral, drawing the eye upward to a stunning stained glass window ceiling.
Guest rooms are expansive, quiet and tastefully decorated in a refined, traditional style while also being outfitted with modern conveniences from complimentary WiFi to satellite television.
Guests of the Hotel Bristol Palace can enjoy a generous breakfast buffet in two dining halls with original frescoes, or, in warmer weather, on the hotel's large outdoor terrace — the perfect start to a day of exploration along Genoa's charming streets and piazzi.
Nicknamed "La Superba," Genoa offers a rich history that has landed it on the UNESCO World Heritage List, and a strong gastronomic tradition (pesto is among its most famous dishes). It is home to world-class art and music venues, museums, architectural landmarks, and more.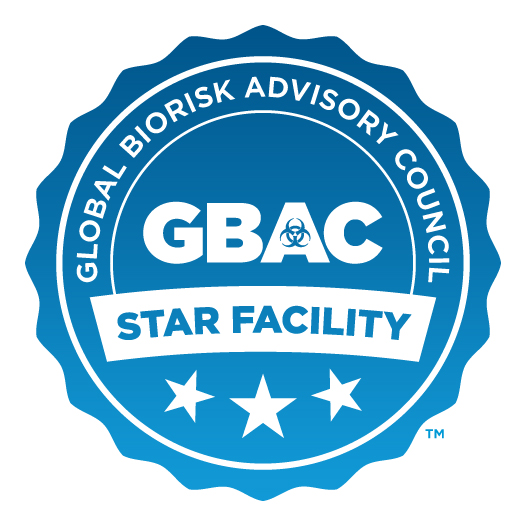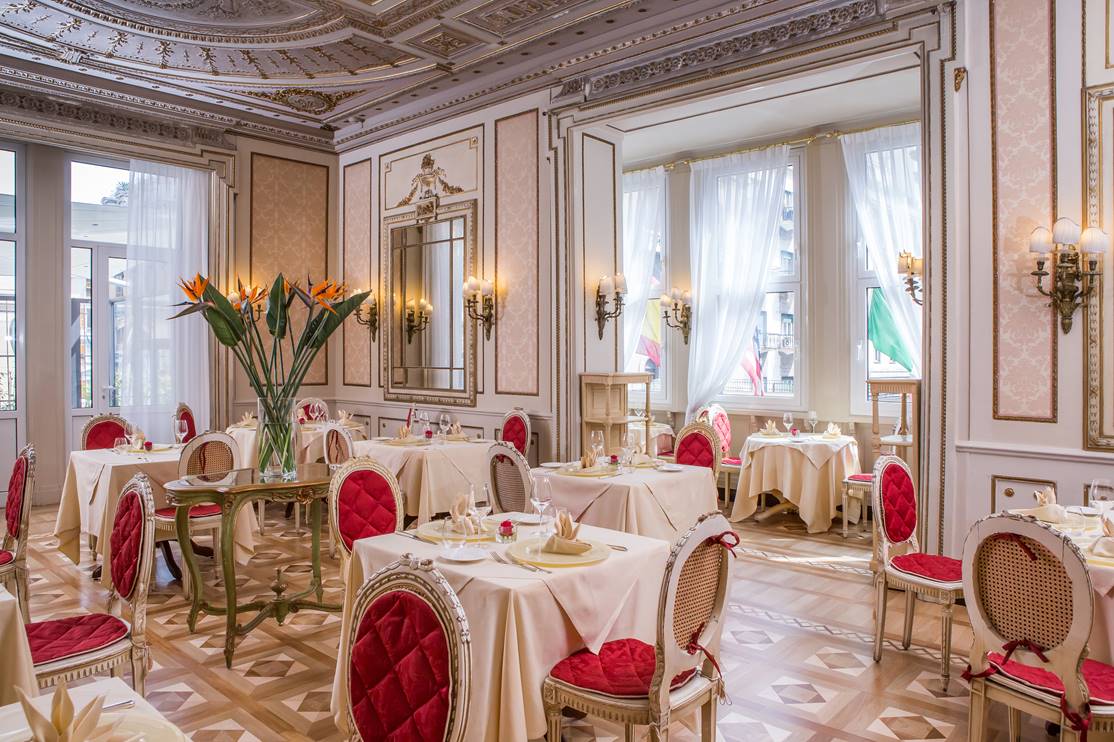 Dining
The Bristol Palace serves a lavish breakfast buffet each morning. Ever-attentive to the needs of their guests, the hotel offers a gluten-free buffet breakfast selection. At the Giotto Restaurant, located on the second floor of the hotel, guests dine under an original fresco ceiling from a menu that offers a rich and varied proposal of seasonal dishes and original creations that span from starter to dessert. During the summer months, guests can enjoy open-air dining on La Terraza.
Old Fashion Bar offers a Light Lunch Menu for those wishing to take a midday gourmet break.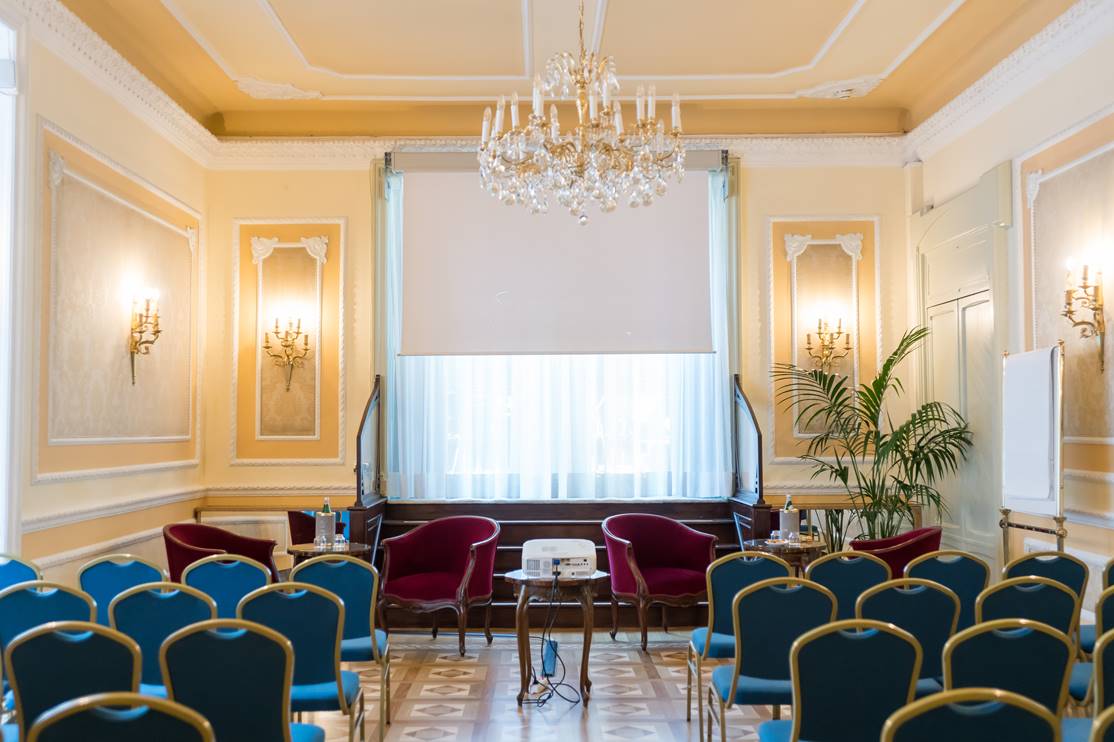 Meetings and Events
The hotel's exquisite Art Nouveau reception rooms are exceptional choices for working lunches, buffets, gala dinners and weddings for up to 200 people. Sophisticated catering menus showcase the finest local, traditional cuisine.
All meeting rooms are equipped with overhead projectors, movable flip charts, fixed and wireless microphones, TV screens, DVD players, sound systems, video projectors (on request), PCs (on request) and WiFi internet connections. Groups also have access to audio/video recording and translation booths. Recent renovations have revitalized the original wood flooring throughout.
Activities
Guided tours can be arranged of a wealth of renowned attractions — all within walking distance of the Hotel Bristol Palace:
The Renaissance-era Ducal Palace now serves as an art museum with restaurants, shops and event space, and its famous Grimaldina Tower once housed VIP prisoners.
The San Lorenzo Cathedral, more than 1,000 years old, holds the ashes of St. John the Baptist, the city's patron saint. Among its more unusual, and most famous, displays is a bomb that hit the cathedral when the port was bombed during World War II, but miraculously failed to detonate.
The Carlo Felice Theatre, built in the early 1800s, is the principal opera house of Genoa, hosting opera, ballet and orchestral performances.
Among the attractions in the Old Port are the Genoa Aquarium, the largest aquarium in Italy and second largest in Europe; the Galata Sea Museum, a state-of-the-art museum, opened in 2004, that is the Mediterranean's largest museum devoted to sailing; and The City of Children, an interactive children's science center that is the largest area dedicated to children in Italy.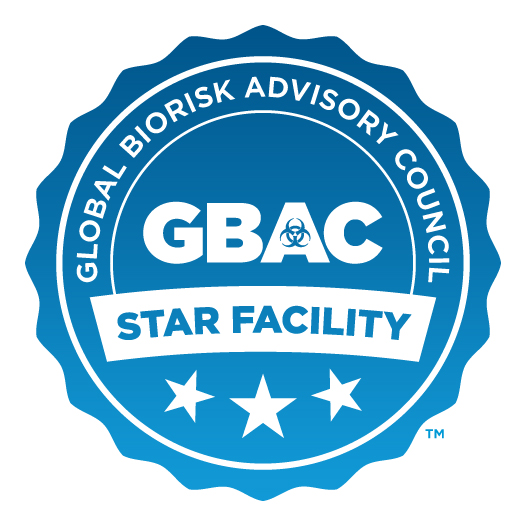 Top Hotel Bristol Palace Selling Points
Opened in 1905. Located in an elegant turn-of-the-century palace in the heart of Genoa – within walking distance to the city's main attractions and a 20-minute drive from the airport; 4-minute drive from the railway station.
The dramatic marble elliptical staircase, seemingly suspended in space, with its Liberty wrought-iron banister.
The Art Nouveau building has recently been completely refurbished, blending old-world elegance with modern comforts; precious marble and bright colors have redefined the lobby and event spaces.
Individually decorated guest rooms and suites, featuring antiques and antique-styled furnishings.
The Giotto Restaurant, located in a prestigious frescoed hall, offers diners a rich and varied proposal of dishes, and is known for its authentic regional cuisine.
The Terrace, overlooking the restaurant and open seasonally for coffee, drinks and light fare.
In the morning, a buffet breakfast welcomes all guests in elegant dining rooms with original period frescoes.
The Old Fashion Bar offers a gourmet Light Lunch Menu.
Nine meeting rooms accommodating up to 200 in elegant surroundings with plenty of natural light.
Exceptional catering customized to the most demanding requests for meetings, weddings, gala dinner, and other events.
Complimentary WiFi in all rooms, meeting rooms and common areas.
Dedicated attention to all guests' inquiries in order to provide a personalized service.
Concierge service available providing tourist information and ticket booking.
Private garage with valet parking available.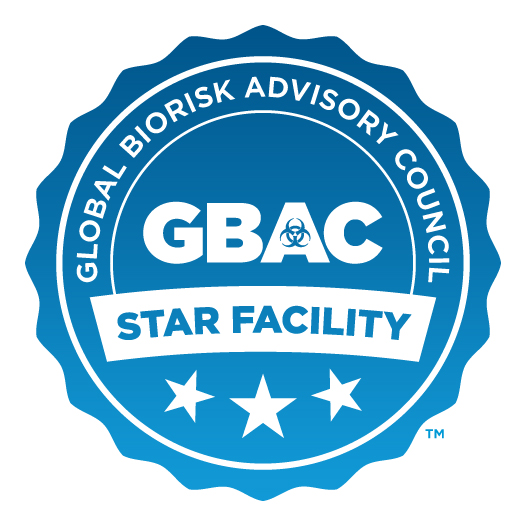 Top Genoa Selling Points
An exceptional geographic location between Cinque Terre, Portofino and the Langhe area.
Capital of Liguria, nicknamed la Superba for its glorious past and impressive landmarks.
The Porto Antico (Old Port), redeveloped in 1992 by Genoa's famed Renzo Piano, now a major tourist attraction filled with an aquarium, museums, shops, restaurants, and the New Marina.
Populated by seals, dolphins, sharks, penguins and fish of all kinds and colors, the Aquarium in Genoa is one of the largest and most visited in Europe. The adjacent La Bolla, a huge glass sphere by Renzo Piano located on a floating platform, serves as a greenhouse for tropical plants.
The Lanterna — Genoa's historic, 16th-century lighthouse, which serves as the symbol of the city.
Bigo, a soaring, crane-inspired structure by Renzo Piano, featuring a revolving glass cabin for aerial views of the port and city.
A historic city center that is among the widest in Europe, with a main square boasting the monumental, recently restored fountain of Piazza De Ferrari.
An old town typified by a maze of squares and narrow caruggi (typical Genoese alleys).
Genoa is one of Europe's largest working harbors. Take a boat trip to Portofino, Camogli or Cinque Terre for a day visit.
During the summer, enjoy the natural beaches and beach resorts within Genoa and surrounding towns.
UNESCO World Heritage Sites along the Palazzi dei Rolli.
Corso Italy – Genoa's main seaside promenade, and Boccadasse – a fisherman's village full of local charm.
The Opera House of Genoa – Opera Carlo Felice – one of the most famous in Italy hosting ballets and concerts all year long.
Genoa's shopping districts boast the smartest designer shops and Italian brands. For true shopaholics, the Serravalle Designer Outlet – the largest outlet in Europe – is only 1/2 hour away.
Renowned regional cuisine based on simple cooking methods; pesto is among the world-famous dishes originating in Genoa.
Cooking classes to learn the authentic making of pesto are offered, as well as tours to the Langhe area for truffle and wine tasting.
Click here to check rates and availability or to confirm a reservation at
Hotel Bristol Palace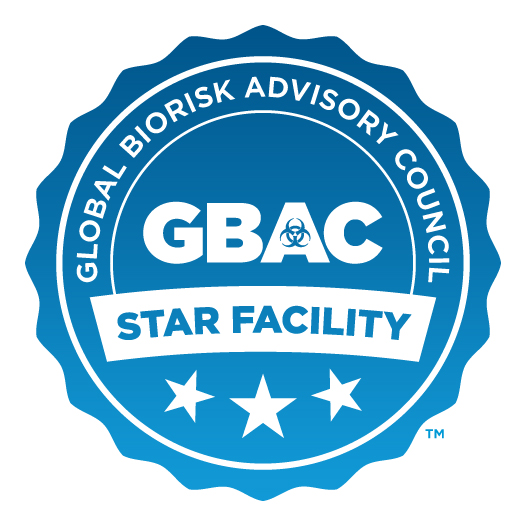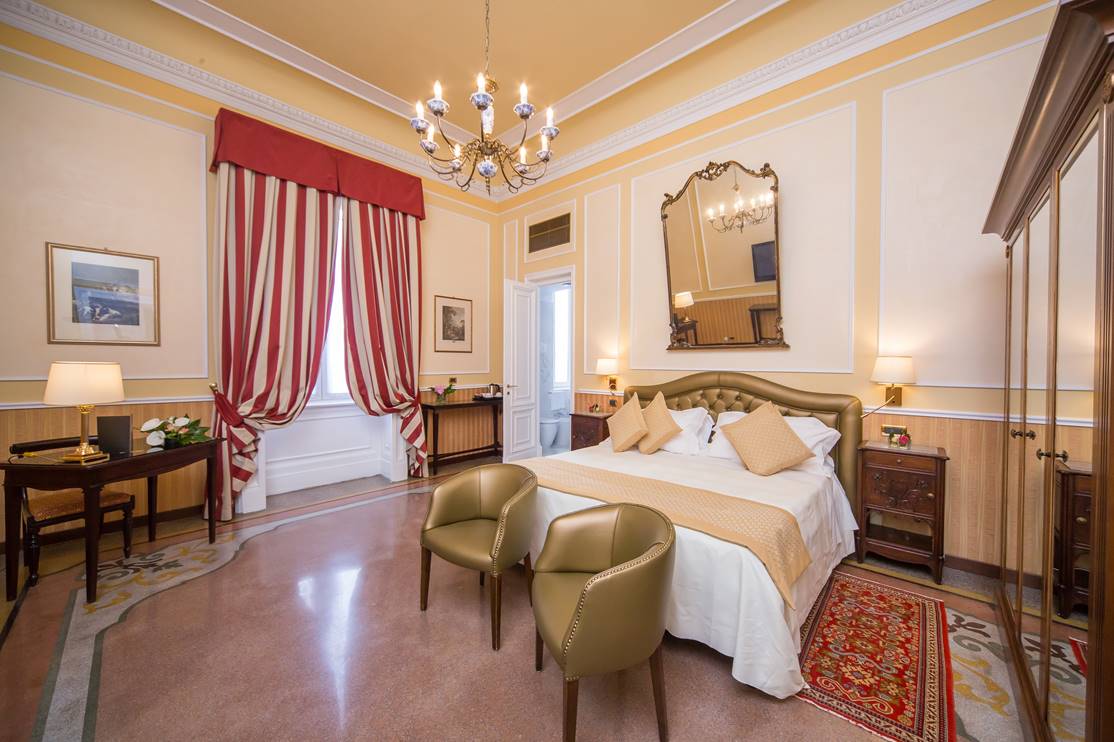 Hotel Promotions
Click here for a listing of current promotions at the Hotel Bristol Palace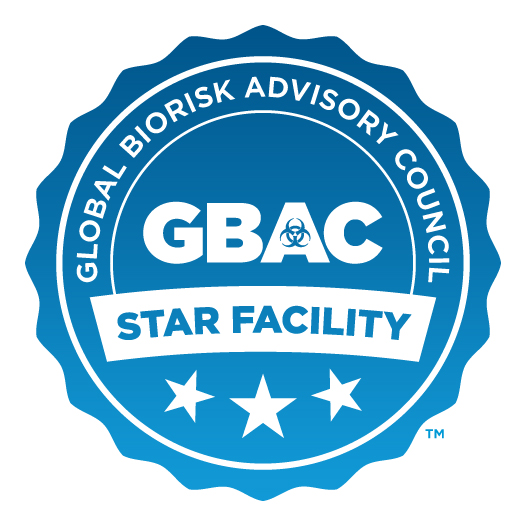 Hotel Bristol Palace
Via XX Settembre, 35 16121 | Genoa, Italy
General Manager:
Mr. Giovanni Ferrando
Deputy Manager:
Fiorenza Peyrot
Affiliations Information
Preferred Hotels & Resorts - LVX Category
Historic Hotels Worldwide
Reservations
Credit cards:
American Express, MasterCard, VISA, China Union Pay, Diners, JCB
Airport:
Cristoforo Colombo Airport (12 km; approx. 20 minute drive) Nice Cote D'Azur Airport (150 km; approx. 3 hour drive) Milano Malpensa Airport (180 km; approx. 3 hour drive)