Property Description

T+L 500; Best Hotels in the World
~Travel + Leisure
"In 1994, while riding my motorcycle at random on the roads of Provence, I discovered a house standing amidst lavender and olive trees. I made it my anchoring harbour, my home, before deciding to open it to others. It has always had this very special place in my heart, and it still has today. "
~ Alain Ducasse
In the Alps of High-Provence, at the foot of the village of Moustiers, the legendary restauranteur Alain Ducasse opened his first country inn: La Bastide de Moustiers. Once the country house of a master potter, La Bastide has been restored and renovated to perfection, with 11 individually designed rooms and one luxury suite, each charmingly named to evoke a particular Provencal theme: Lavande. L'Olive. Framboise (raspberry). L'Abeille (bee).
This is a place that celebrates the best of country living. Fresh Provencal cuisine is skillfully prepared by Chef Frédéric Garnier and his team. A day's menu might feature such local specialties as Sisteron lamb, Banon cheese or Riez truffles, and always offers plenty of vegetables, herbs and fruits harvested daily from La Bastide's own gardens.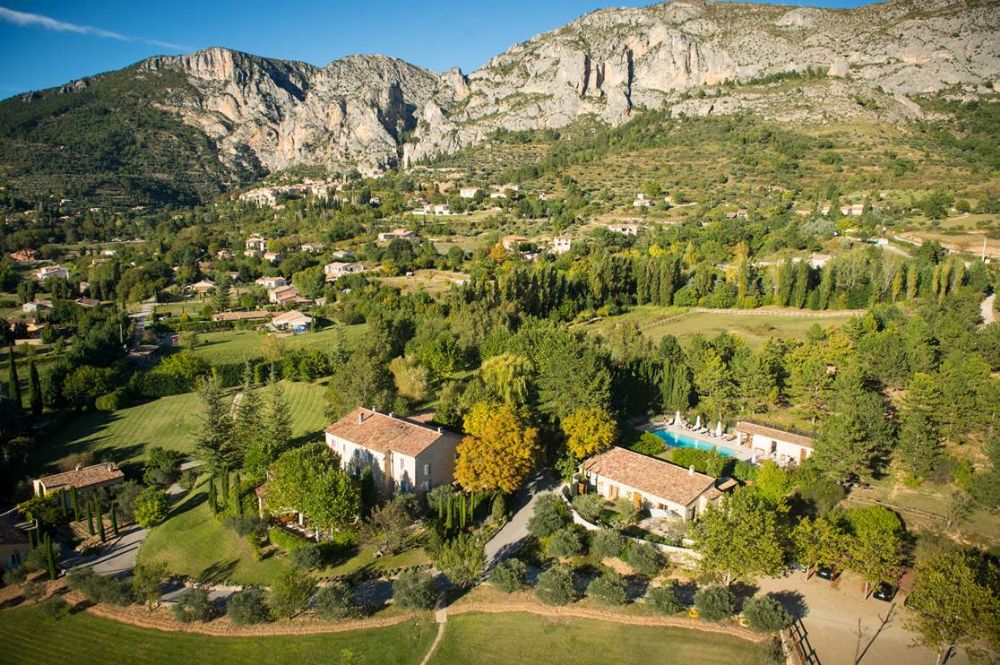 Guests are welcomed as if at a private home, with freedom to wander wherever they choose – even into the kitchen. Each day holds its own distinct delights with several activities offered, from pottery classes once a month to a game of pétanque, a romantic picnic, or a four-wheel-drive adventure through the spectacular Verdon Gorge. Children and the young at heart will be enchanted by La Bastide's menagerie of animals – ponies, fawns, donkeys, and a horse named Eliot.
Paragliding, kayaking and rock-climbing are just a few of the recreational options that await thrill-seekers in the surrounding countryside, and the resulting sore muscles can be soothed with a tempting menu of Ayurvedic massage treatments back at La Bastide. Yet no one could blame a guest for choosing to simply relax by the heated pool, or on a hammock in the shade of the trees, whiling away the hours with a book or a refreshing aperitif.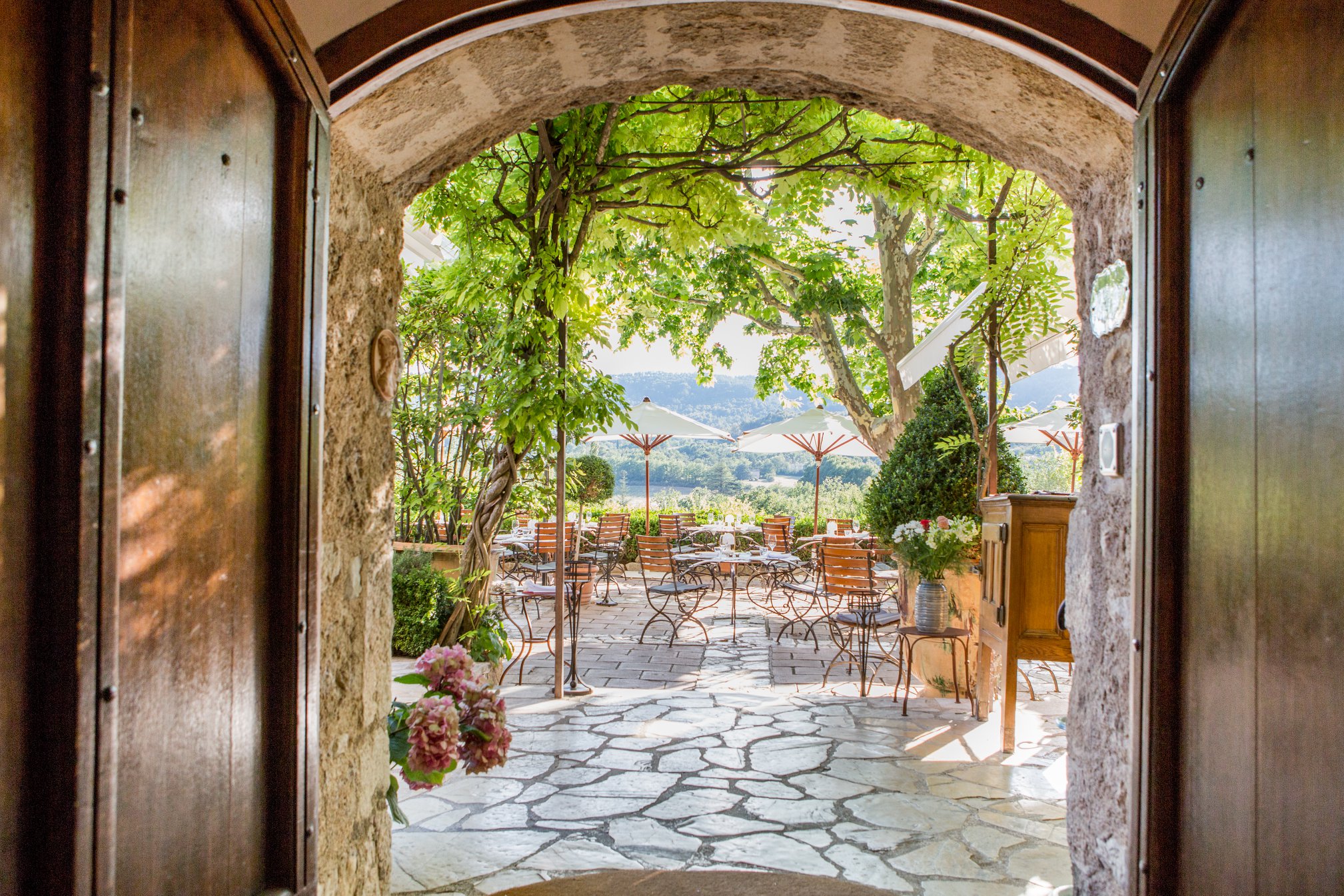 Dining
The restaurant at Alain Ducasse' country inn celebrates the legendary restaurateur's return to his culinary roots. Under the expert care of Chef Frédéric Garnier, La Bastide's menu is a sensory delight of Provençale cuisine. Menus change weekly to take advantage of the finest regional ingredients available, complemented by just-picked produce from the inn's own gardens.
There are two separate wine lists representing more than 300 vintages. The Bastide de Moustiers wine list celebrates the finest wines of the region, while the Alain Ducasse wine list showcases the best of France.
Guests can enjoy an exceptional meal in a choice of four distinct dining rooms: The Fireplace Room, Faiance Room, Library and Lover's Room (an intimate niche with just one table and nighttime views of the castle at Aiguines). In warm weather, guests can also choose to dine al fresco on the Terrace, under the chestnut trees or by the pool.
Picnic baskets, filled with fresh tarts, breads and other culinary delights, can be reserved to be enjoyed under the shade of a tree during a stroll through the countryside.
La Bastide's cozy Lounge offers comfortable seating around three wooden tables, where guests can settle (by the fire, in winter months) to enjoy a fine selection of coffees, teas, aperitifs, digestifs and herb infusions from the inn's gardens.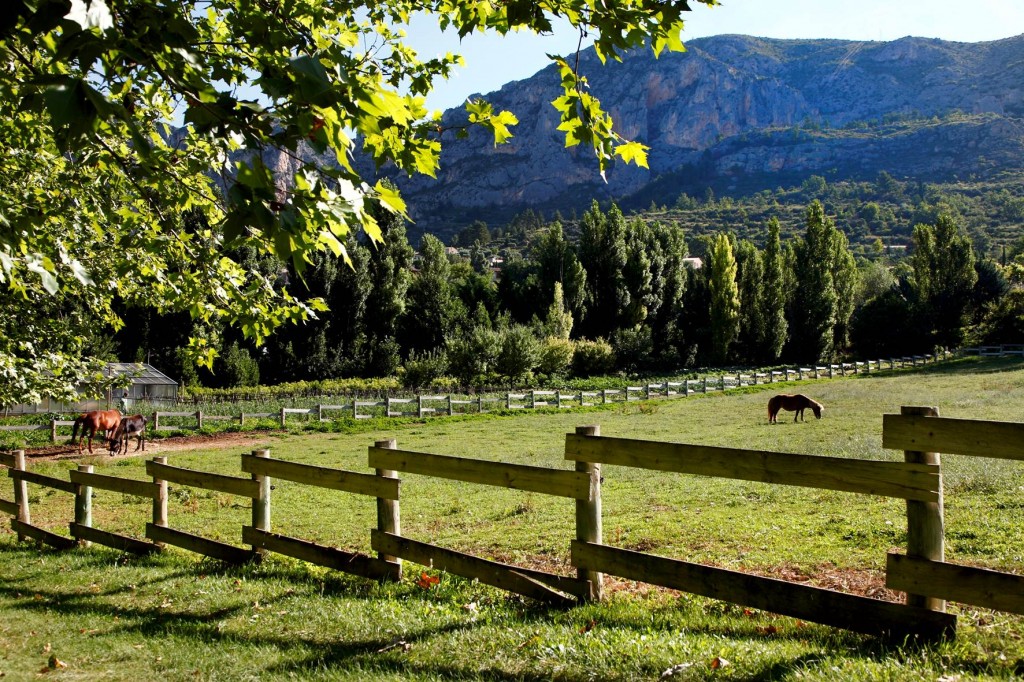 Recreation
Exploring the grounds: La Bastide's grounds offer plenty of diversions, including a heated outdoor swimming pool and Jacuzzi, open in May through October, a garden with more than 300 varieties of herbs and vegetables, a park with gentle animals for children to pet, mountain biking, an electric bike, and pétanque and other lawn games.
Massage: Guests at La Bastide can avail themselves of a tempting spa menu of Ayurvedic massage and body treatments, including several designed especially for men.
Pottery Workshop: On the second weekend of every month, potter Corinne Astier hosts a two-day workshop for guests at La Bastide. Guests leave with a finished, glazed work of art.
Excursions: La Bastide's expert staff can help guests plan walking tours of historic Moustiers and other quaint villages, arrange for guided mountain hikes, four-wheel-drive adventures, and a wide variety of recreational activities in the spectacular Verdon Gorge and Sainte-Croix lake. Paragliding, hot-air ballooning, sailing, swimming, and rock climbing are among the many options for outdoor enthusiasts.
Top La Bastide de Moustiers Selling Points
A Maison Alain Ducasse with a Michelin-star restaurant serving fresh, authentic cuisine.
Boutique, four-star hotel.
Plentiful green spaces, including a vegetable garden, aromatic garden, animals, shaded terraces, and five acres of parkland.
Unique, individually decorated rooms and suites, most with an open fireplace.
On-site cooking courses and wine tastings.
Highly personalized services for a custom-tailored guest experience.
Option to book the full inn for weddings, birthdays, and business groups.
Exceptional facilities and services, including a heated swimming pool, boutique, helipad, massages, and private parking.
A wealth of local activities, from canyoning, rafting and paragliding to cycling.
Nearby cultural sites, including the Earthenware Museum and workshops and the Museum of Prehistory.
Top Moustiers Sainte-Marie Selling Points
The majestic and preserved site of Verdon Gorges, Europe's deepest and most beautiful canyon.
The famous Lake of Sainte Croix, which allows only electric-powered boats.
Natural Regional Park of the Verdon, with its vultures discovery program.
Moustiers Sainte-Marie, one of the most beautiful villages in France.
Workshops by Moustiers' famous potters, whose handiwork through the ages can also be seen in the museum of ceramics.
Close to le Plateau de Valensole, famous for lavender and olive oil.
Many aquatic activities, including canyoning, rafting, kayaking, rowing, and windsurfing.
Paragliding and hot-air ballooning for thrill-seekers.
Land activities including cycling, hiking and walking.
A short drive to the famous villages of Quinson and Tourtour.
Click here to check rates and availability or to confirm a reservation at La Bastide de Moustiers
Hotel Promotions
Click here for a listing of current promotions at La Bastide de Moustiers
Hotel Information
La Bastide de Moustiers
Chemin de Quinson 04360 Moustiers Sainte-Marie, | Provence, France
Phone:
+ 33 (0) 4 92 70 47 47
Fax:
+ 33 (0) 4 92 70 47 48
Director:
Dominique Potier
GDS CODES:
Sabre: EU113464
Amadeus: EUXDIHGC
Galileo: EU74799
Worldspan: EUNCEBM

Affiliations Information
Châteaux & Hôtels Collection
Ducasse Hospitalité
Reservations
No. of Rooms:
11 rooms and 1 suite
Open:
March - December; closed January and February and on Tuesdays and Wednesdays from mid-October to mid-April Restaurant closed on Tuesdays and Wednesdays from November - April.
Credit cards:
American Express, MasterCard, Visa, JCB, Diners
Airport:
Nice (2 hrs.); Marseille (1 hr. 45 min.)