Property Description
~ GaultMillau Hotel of the Year 2018 ~
"The level of service is unrivalled."
Concierge.com
One of the Top 25 Luxury Hotels in Switzerland, Trip Advisor Travelers' Choice Awards 2017
One of the Top 25 Hotels for Service in Switzerland, Trip Advisor Travelers' Choice Awards 2017
~ TripAdvisor 2016 Certificate of Excellence ~
Jenny & Heinz Hunkeler named "Hoteliers of the Year 2016"
~ Swiss Newspaper SonntagsZeitung
At the highest point of the Engadin Valley, overlooking lakes and mountains, the Kulm Hotel has been welcoming guests since 1856, among them royalty, captains of industry and Hollywood stars. A year-round resort, it is a charming blend of traditional elegance and modern comfort. All of its lovely rooms and suites offer mountain or lake views, and all provide round-the-clock pampering.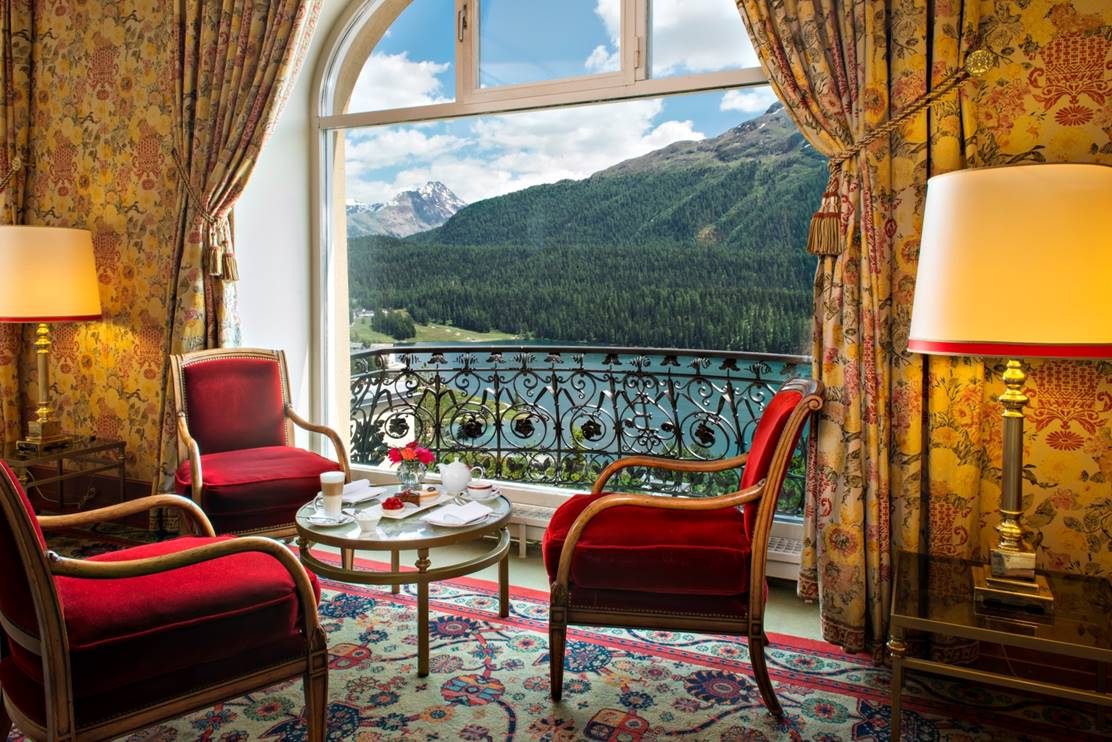 The Kulm has been called the "cradle of winter sports." The first to promote St. Moritz as a winter destination, back in the late 19th century, the hotel played host to the winter Olympic games of 1928 and 1948, and continues to be the region's center of sports and social activities.
Warm-weather options abound as well, from luxury golf packages at the Kulm's own nine-hole executive course (with free green fees for guests) to tennis and hiking. Its quiet yet central location is ideally suited for business gatherings.
Spa-goers are drawn to the completely redesigned Kulm Spa St. Moritz. Set against imposing Alpine scenery, this oasis of wellness has at its core a holistic philosophy of relaxation, detoxification and regeneration of all the senses. Skiers and other sports enthusiasts will find it ideal for soothing sore muscles, and business travelers will appreciate the opportunity to unwind after a day of meetings.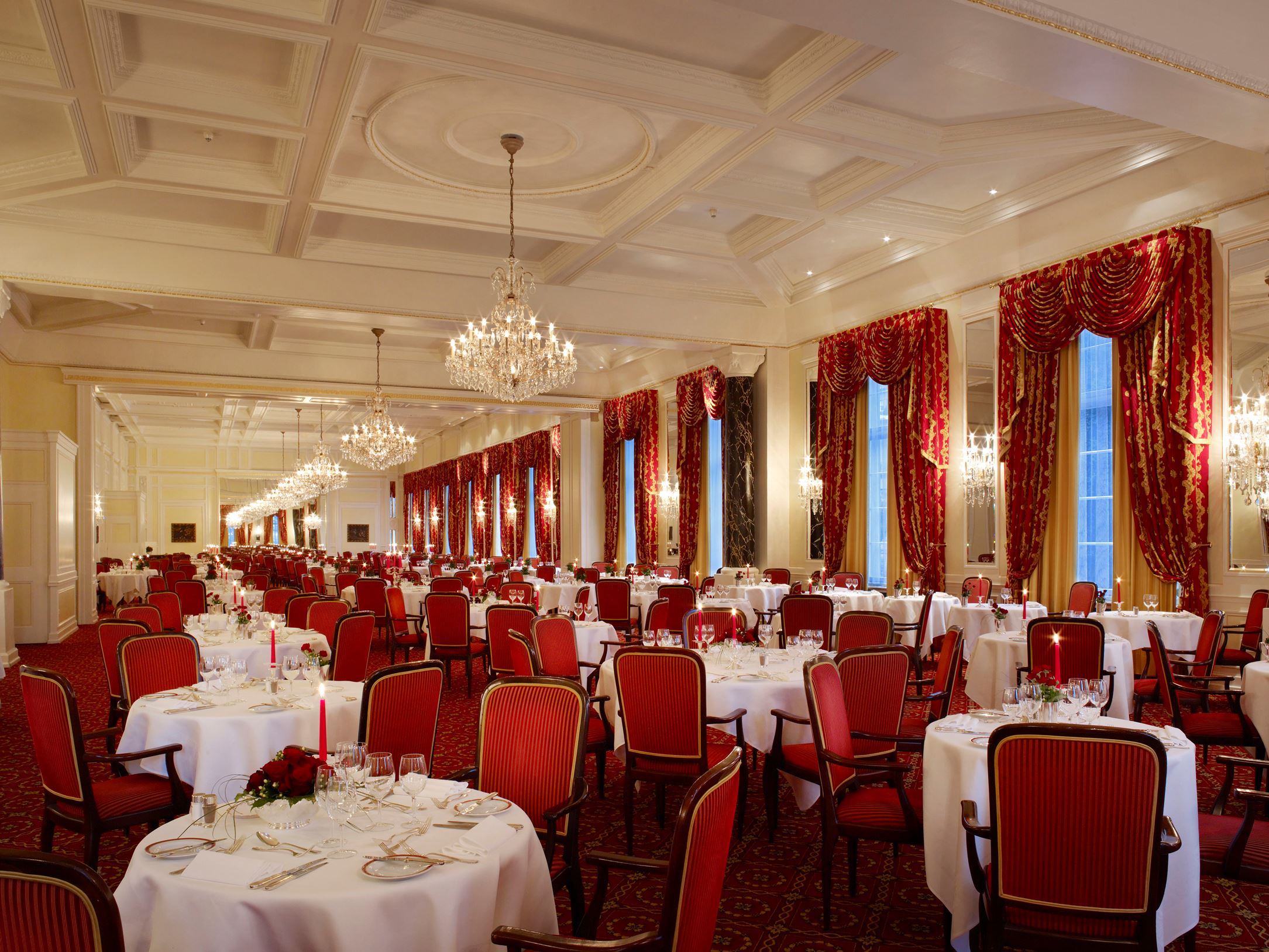 Dining
Le Grand Restaurant: The Kulm Hotel's main dining room serves formal French cuisine with a modern flair in an elegant setting.
The Pizzeria: Swiss and Italian selections are served in the cozy setting of this casual restaurant.
Chesa al Parc: On the protected sun terrace of this parkside restaurant, guests can enjoy excellent regional fare. Chesa al Parc is convenient to the hotel's ice skating rink, curling rink and tennis courts.
Altitude Bar: From its welcoming bench seats and stools, to its elegant wood décor, the Altitude Bar is a popular place for guests to enjoy their nightcaps to the gentle accompaniment of live piano entertainment.
Miles Davis Lounge: A place for connoisseurs and music lovers. Enjoy the finest drinks and cigars, as well as special jazz concerts throughout the year, with a magnificent view over St. Moritz.
the K: This cozy and intimate gourmet restaurant's menu was immediately awarded 15 points GaultMillau. As a special highlight of the K, paintings from famous contemporary artists are continuously on display.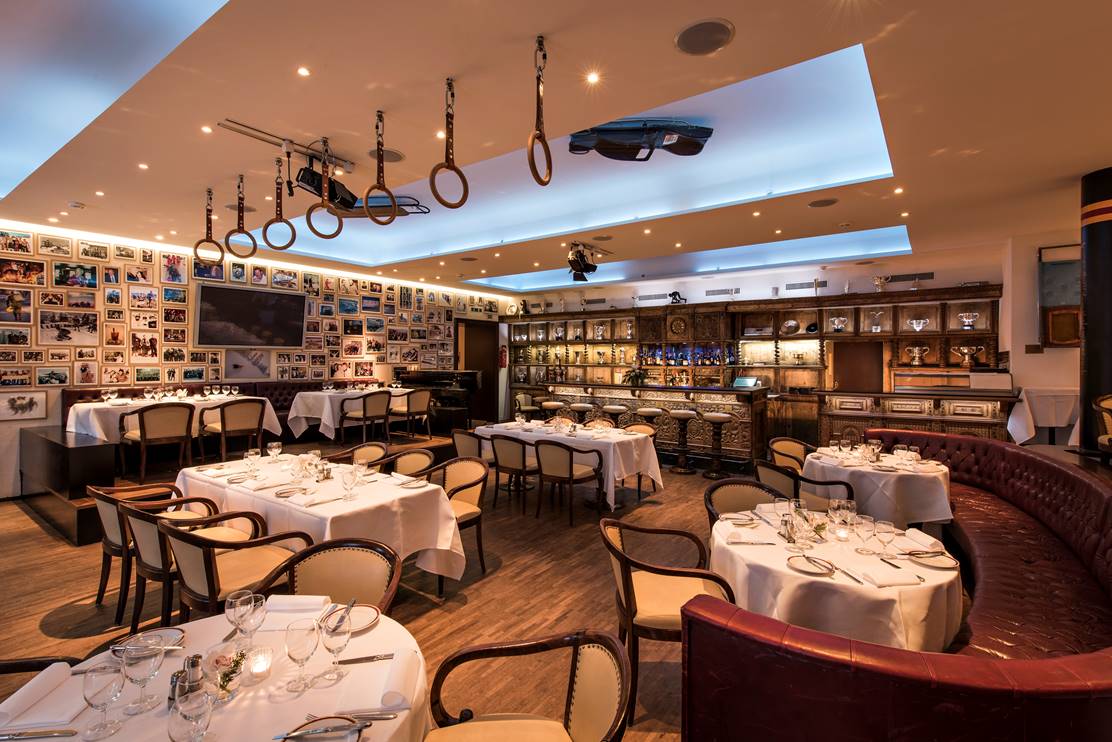 Sunny Bar and Restaurant NITO: After a day of winter racing, victory honors are celebrated at the Sunny Bar. The sun terrace is open in fair weather – just the place to partake of a leisurely lunch. A lively history stands in fascinating contrast to the venue's modernistic interior. Closed Summer / Winter open daily from noon to 2 pm. At Restaurant NITO at the Sunny Bar, guests can savor an exclusive sushi, sashimi, sukiyaki and kaiseki menu as well as other Japanese and international cuisine.
Open for lunch and dinner from mid December to mid March. 13 pts. GaultMillau.
Dracula Club:The Dracula Club is a social institution in St. Moritz. Founded by original Dracula Gunter Sachs, the club is the hot spot in St. Moritz since its opening in 1974. Located on the premises of the Kulm Hotel St. Moritz, today the club is led by Rolf Sachs, son of Gunter Sachs.  A great opportunity to get inside the private club is during the public Festival da Jazz in the summer. An intimate atmosphere is guaranteed because of its modest capacity of 150.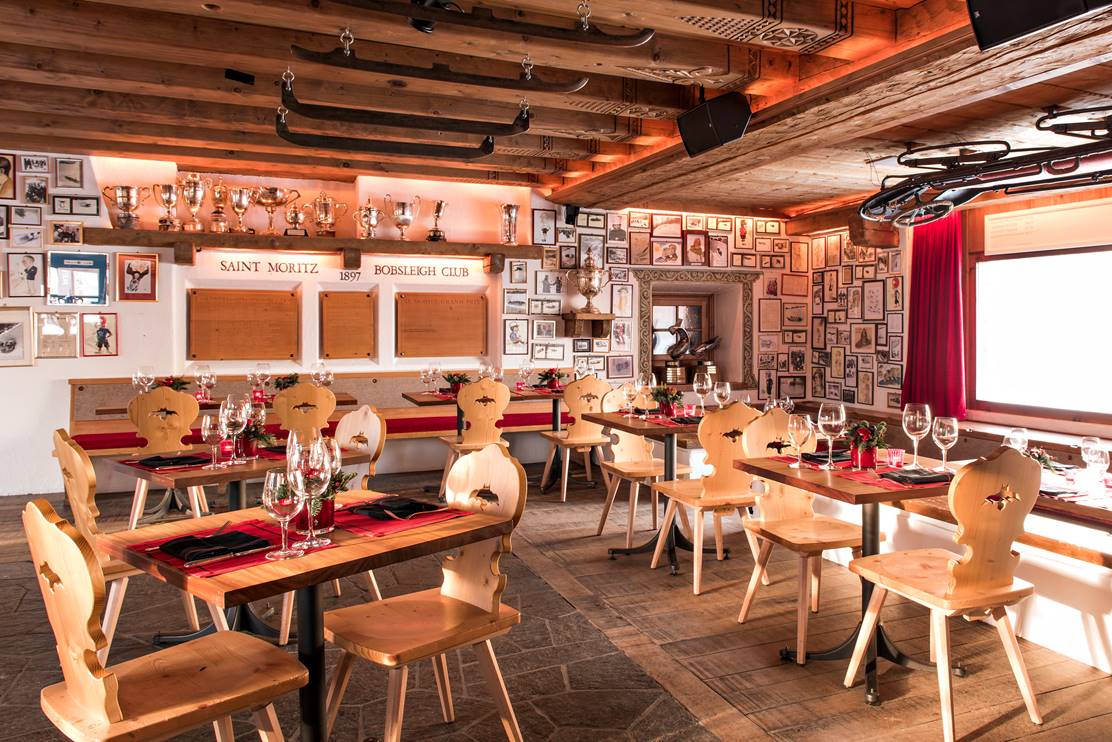 Bob Restaurant: At a 10 minute walking distance from the hotel, the Bob Restaurant is situated right in the starting gate building for the St. Moritz-Celerina Olympic bobsleigh run – on the grounds of the Kulm Hotel. You can enjoy light or classic lunches in the sports-inspired ambience of the terrace with a direct view of the start line.
Spa and Fitness
Kulm Spa Ritual Signature Massage – Best Signature Treatment
~ 2015 European Health & Spa Awards
Kulm Spa St. Moritz:
Guests of the Kulm Hotel enjoy the completely redesigned Kulm Spa St. Moritz, a totally new approach to renewing body and soul. Set against imposing Alpine scenery, this oasis of wellness has at its core the holistic philosophy of relaxation, detoxification and regeneration of all the senses. The purist design of the new pool-and-saunascape and outdoor whirlpool are a seamless link to the grandeur of Engadine's mountains. Proven natural ingredients, renowned for centuries for their regenerative powers, are combined with the latest biotechnological innovations to replenish spa-goers' vitality and joie de vivre.
Fitness center: The fitness club is equipped with the most modern cardio and body-building machines. Guests can avail themselves of a professional trainer for customized workouts. Gym and fitness classes are also available.
Pool area: The spa features a heated indoor swimming pool with panoramic mountain views and underwater music, an open-air pool, a children's pool, whirlpool, salt water grotto, steam bath, a Finnish sauna, Bio sauna, Kneipp foot bath and resting lounge with fireplace.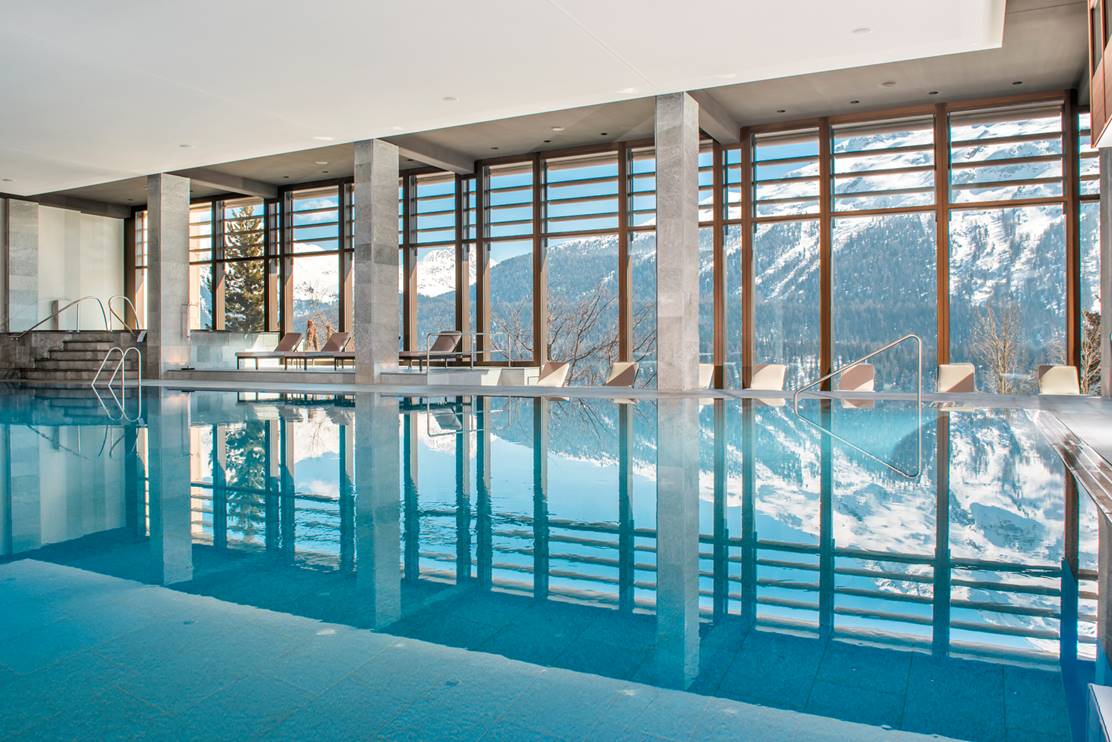 Sports and Leisure
Winter Sports: Every winter sport imaginable can be found at the Kulm Hotel's doorstep, including downhill and cross-country skiing, an ice rink on the hotel grounds, plus the Olympic bobsled and Cresta runs. The hotel's ski room features storage lockers assigned to each room, and heated rods to dry boots, gloves and helmets ensure that guests hit the slopes each morning warm and dry. The on-site ski shop allows guests to enjoy the best equipment possible with the latest skis, snowboards and boots for rent directly at the hotel.
Tennis: In the warmer months, active travelers can avail themselves of three outdoor tennis courts in Kulm Park.
Golf: Kulm Park is home to a nine-hole executive golf course and academy, putting greens and a driving range. Guests of the Kulm and its sister hotel, Grand Hotel Kronenhof in Pontresina, enjoy free green fees. A weekly free-of-charge beginners' course is also offered to all guests, as well as a complimentary golf shoe and club cleaning service and take-with-you-snack (order in advance).
Other warm-weather options: Among the many possibilities are hiking, bike riding and excursions to nearby attractions, including mountaintop vantage points, the Italian village of Tirano, and more.
Shopping: The shopping area of St. Moritz starts right at the back of the hotel. Here, guests will find international shops and boutiques with world-renowned names.
Bridge: The Kulm Hotel's bridge hostess gives lessons and arranges for partners daily in the high season.
Game room: A playroom for children and adults – with table-tennis, table soccer, pinball, video games and more – is located on the ground floor of the New Kulm wing.
Families/children's activities: A varied, quality program will make a stay at the Kulm Hotel pleasant and enjoyable for children and their parents alike. Most rooms can be linked via a connecting door, which makes them particularly suitable for relaxed family holidays.
Marmotta VIK Kid's Club: Children of all ages will find a large choice of play and entertainment opportunities at the "Marmotta Club." Children ages 3 and up are supervised by the hotel's own kindergarten-trained play leader. There is a varied weekly program with exciting children's attractions and plenty of stimulating entertainment.
Top Selling Points for Kulm Hotel St. Moritz
The "cradle of winter sports" – St. Moritz's first hotel, the first to promote winter tourism, and host of the 1928 and 1948 winter Olympic games.
Celebrating its 150th anniversary this season.
The expansive, 2,000-square-meter, two-story Kulm Spa, completely renovated in 2013, and recipient of Conde Nast Traveler's "Best New Spas of the World" 2013.
Individually decorated guest rooms that reflect the hotel's Engadin setting in distinctive wood and granite details.
High employee-to-guest ratio.
General Manager Heinz Hunkeler, a St. Moritz native with a lifelong connection to the Kulm Hotel through his father, who also once managed the hotel.
Central location in St. Moritz village.
Interiors that are continuously refreshed between seasons.
A brand-new gourmet restaurant, "the K," with 16 GaultMillau points.
Distinctive event space for meetings of up to 200 and banquets of up to 400 guests.
Exceptional concierge services led by Chef Concierge Silvio, a 40-year veteran of the hotel.
Top St. Moritz Selling Points
World-famous winter sports destination, site of two Olympic games (1928 and 1948). Home to world-class downhill skiing, snowboarding, cross-country skiing, sledging, ski jump ramp, ice skating, and Olympic bobsled and Cresla runs.
A "champagne climate" with more than 320 sunny days per year.
A wealth of summer sports including golf, tennis, hiking, biking, wind-surfing, and sailing, among others.
World-class cultural activities including opera, gourmet and music festivals.
Spectacular setting in the Upper Engadin lake country, 1,856 meters above sea level.
Charming, cosmopolitan village filled with restaurants, nightlife, international shops and boutiques.
Excursions to mountain-top vantage points, the Italian village of Tirano, and more.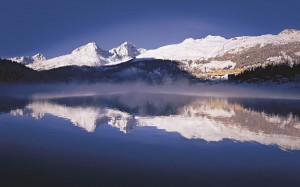 Hotel Promotions
Click here for a full listing of current promotions at the Kulm Hotel
Hotel Information
Kulm Hotel St. Moritz
Via Veglia 18 CH-7500 | St. Moritz, Switzerland
Phone:
+(41) (0) 81 836 80 00
Fax:
+(41) (0) 81 836 80 01
General Manager:
Mr. Heinz E. Hunkeler
Director of Sales & Marketing:
Cornelia Koebele
Director of Sales & Marketing Email:
GDS CODES:
Sabre: LW 12175
Galileo/Apollo: LW 87863
Worldspan: LW 1614
Amadeus: LW SMV614
Reservations
Open:
End June - Mid September; Mid December - Mid April
Airport:
Zurich Airport - 200 km / Milan Airport - 175 km / Munich Airport 280 km