Property Description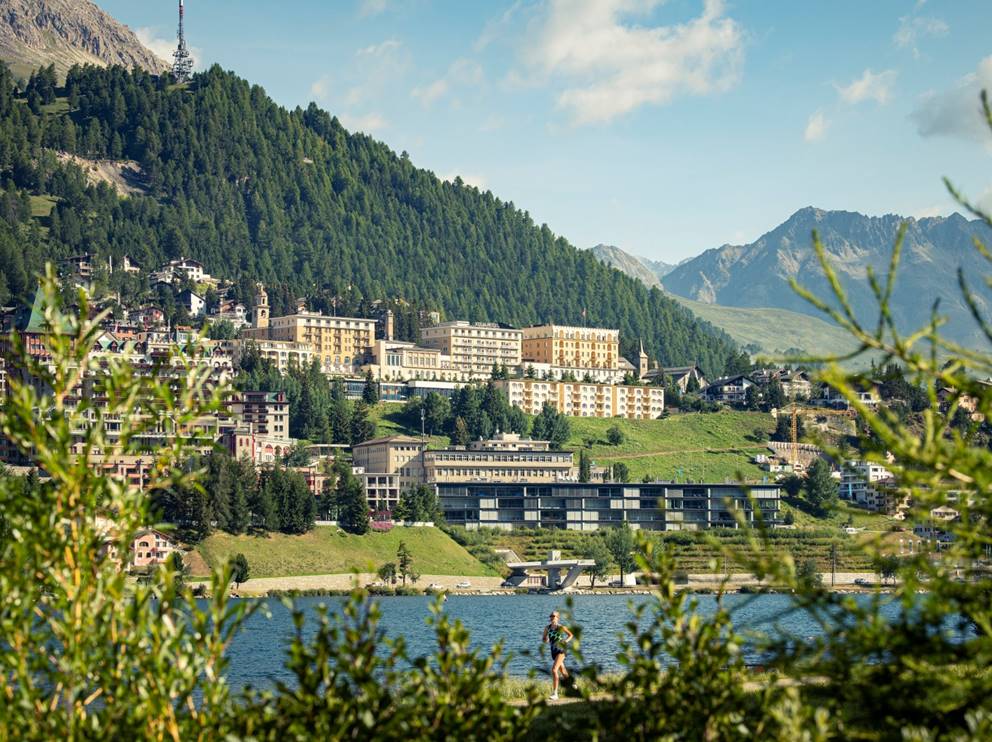 #1 Hotel in St. Moritz (and in top 10% of all hotels ranked)
US News & World Report "Best Hotels 2020"
Conde Nast Traveler's Gold List 2019
Trust You Award of Excellence 2019
GaultMillau Hotel of the Year 2018
"The level of service is unrivalled."
Concierge.com
At the highest point of the Engadin Valley, overlooking lakes and mountains, the Kulm Hotel has been welcoming guests since 1856, among them royalty, captains of industry and Hollywood stars. A winter and summer season resort, it is a charming blend of traditional elegance and modern comfort. All of its lovely rooms and suites offer mountain or lake views, and all provide round-the-clock pampering.
The Kulm has been called the "cradle of winter sports." The first to promote St. Moritz as a winter destination, back in the late 19th century, the hotel played host to the winter Olympic games of 1928 and 1948, and continues to be the region's center of sports and social activities.
Warm-weather options abound as well, from luxury golf packages at the Kulm's own nine-hole executive course (with free green fees for guests) to tennis and hiking. Its quiet yet central location is ideally suited for business gatherings.
Spa-goers are drawn to the completely redesigned Kulm Spa St. Moritz. Set against imposing Alpine scenery, this oasis of wellness has at its core a holistic philosophy of relaxation, detoxification and regeneration of all the senses. Skiers and other sports enthusiasts will find it ideal for soothing sore muscles, and business travelers will appreciate the opportunity to unwind after a day of meetings.
Click here for a quick video getaway to the winter wonderland of Kulm Hotel St. Moritz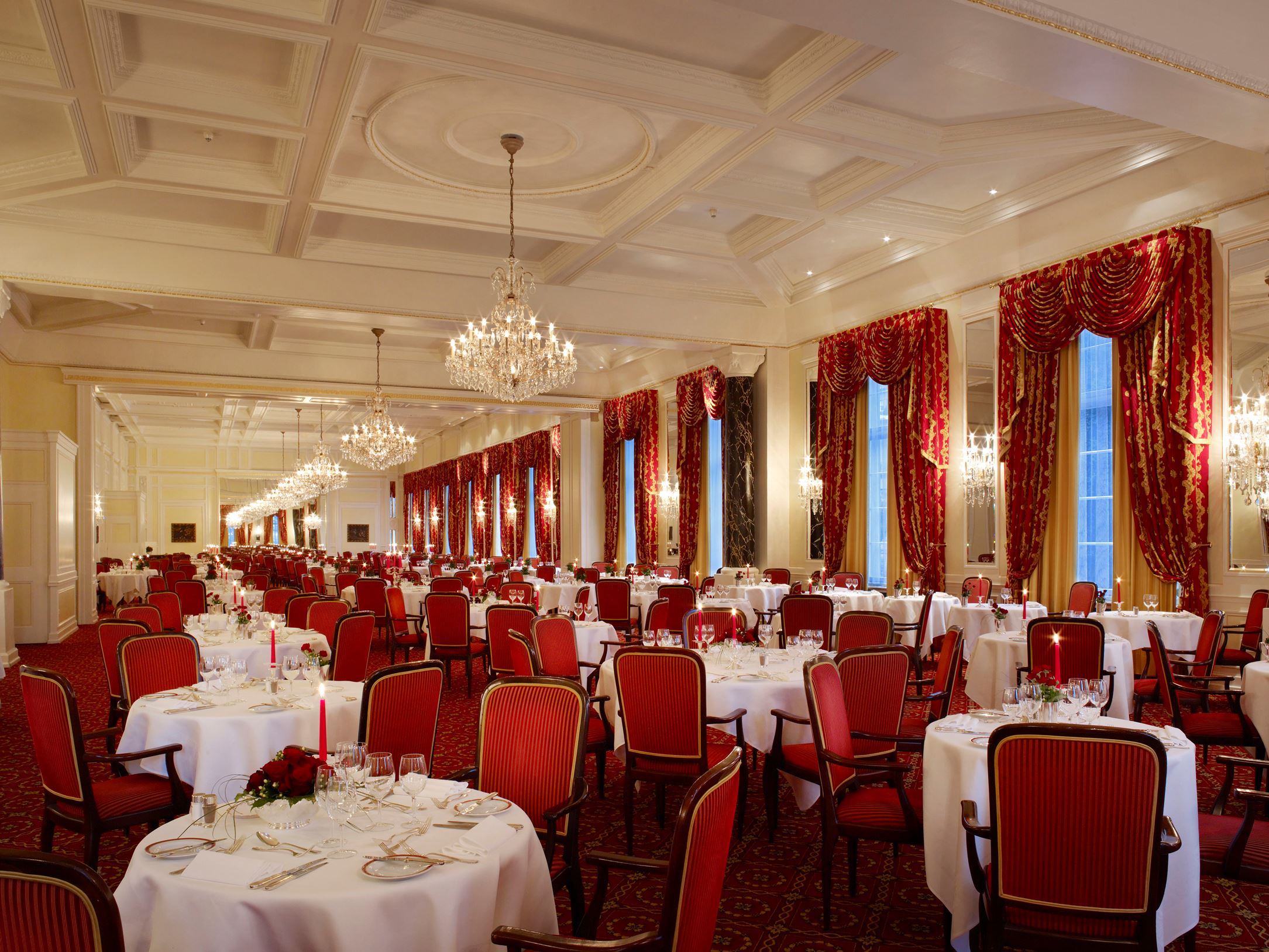 Dining
Grand Restaurant: The Kulm Hotel's main dining room serves a sumptuous breakfast with an extensive buffet of local and international specialties. Dinner with varied 6-course menu as part of the Gourmet-Dine-Around offer (half board). Elegant wardrobe in the evening, suit jacket required for men.
the K by Mauro Colagreco (winter only) – One Star Michelin:
Mauro Colagreco is chef and patron of the restaurant Mirazur, located in Menton on the Cote D'Azur. After 5 years of learning from the best chefs in France, Mario took over Mirazur in 2006. With 3 Michelin stars and currently ranked no. 1 on the 50 Best Restaurants in the World list, Mirazur is considered a must-visit for fine dining on the Cote D'Azur.
Mauro Colagreco's cuisine defies categorization; his dishes embrace the surroundings in a unique and all-encompassing way. Mauro's skill lies in his sensitive balance of unique taste and flavor, allowing each magnificent ingredient its place.
For this second collaboration with Kulm Hotel, Mauro brings all of his signature dishes made with high quality fresh products to the K. Don't miss out on this opportunity to enjoy the world's best of culinary delights at the K by Mauro Colagreco – awarded One Michelin Star in 2021.
The Pizzeria: Delightful variety and lots of "Italianità". Savor delicacies of Italian cuisine, pasta and crispy pizza from the wood oven. In summer, lunch can be enjoyed on the large sun terrace.
Chesa al Parc: The restaurant with its large sun terrace offers an array of rustic dishes and Swiss delicacies as well as a variety of snacks and cakes. The weekly lunch specials include calf's liver Venetian-style on Tuesdays, the traditional Italian dish Bollito Misto on Thursdays and Fondue Chinoise à discretion on Sunday evenings.
Altitude Bar: Lively meeting place for guests and outside visitors to enjoy a light snack in the afternoon or a drink from the well-stocked bar in the evening. Recommended is the signature drink "Kulmino" or something from the bar's wide selection.
Miles Davis Lounge: A place for connoisseurs and music lovers. Enjoy the finest drinks and cigars with a magnificent view over St. Moritz.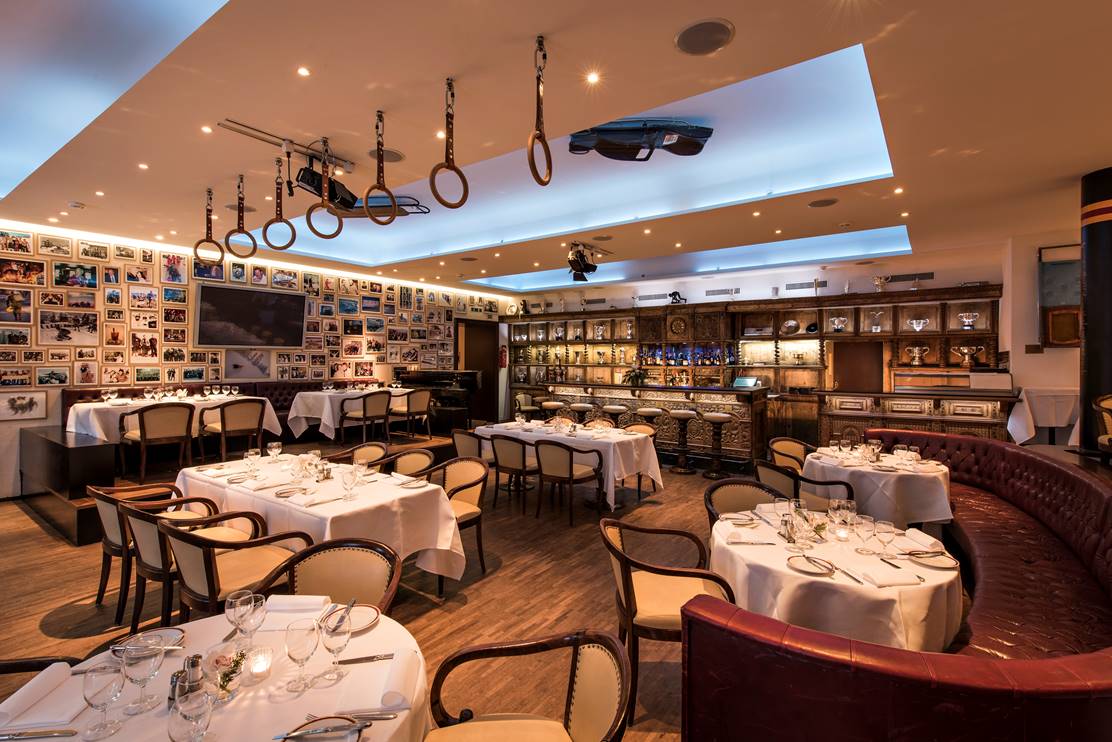 Sunny Bar by Claudia Canessa (winter only): The legendary Sunny Bar is the oldest sports bar in the Alps. It is – and has been for decades – the place where courageous Cresta run pilots congregate. The traditional meeting place of the Cresta Rider has evolved in recent years to also be the insider choice in St. Moritz. In the evening, during the winter season, the Sunny Bar becomes the scene restaurant Sunny Bar by Claudia Canessa, where guests can enjoy creations of Peruvian cuisine, from Ceviche and Quinoa to authentic Peruvian street food.
Kulm Country Club: Casual, authentic and innovative scene restaurant in the Kulm Park, with a cozy ambience, alpine bar and generous sun terrace. Modern, light quality cuisine based on local, fresh ingredients.
Dracula Club:The Dracula Club is a social institution in St. Moritz. Founded by original Dracula Gunter Sachs, the club is the hot spot in St. Moritz since its opening in 1974. Located on the premises of the Kulm Hotel St. Moritz, today the club is led by Rolf Sachs, son of Gunter Sachs.  A great opportunity to get inside the private club is during the public Festival da Jazz in the summer. An intimate atmosphere is guaranteed because of its modest capacity of 150.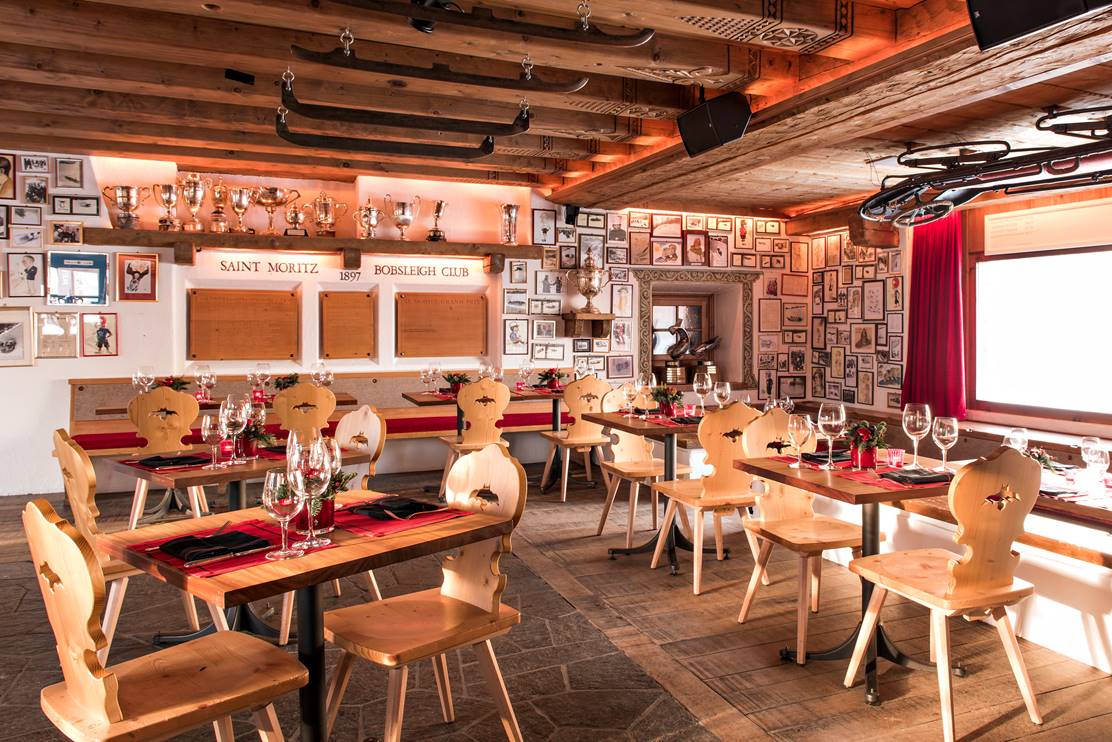 Bob Restaurant (winter only): At a 10 minute walking distance from the hotel, the Bob Restaurant is situated right in the starting gate building for the St. Moritz-Celerina Olympic bobsleigh run – on the grounds of the Kulm Hotel. You can enjoy light or classic lunches in the sports-inspired ambience of the terrace with a direct view of the start line.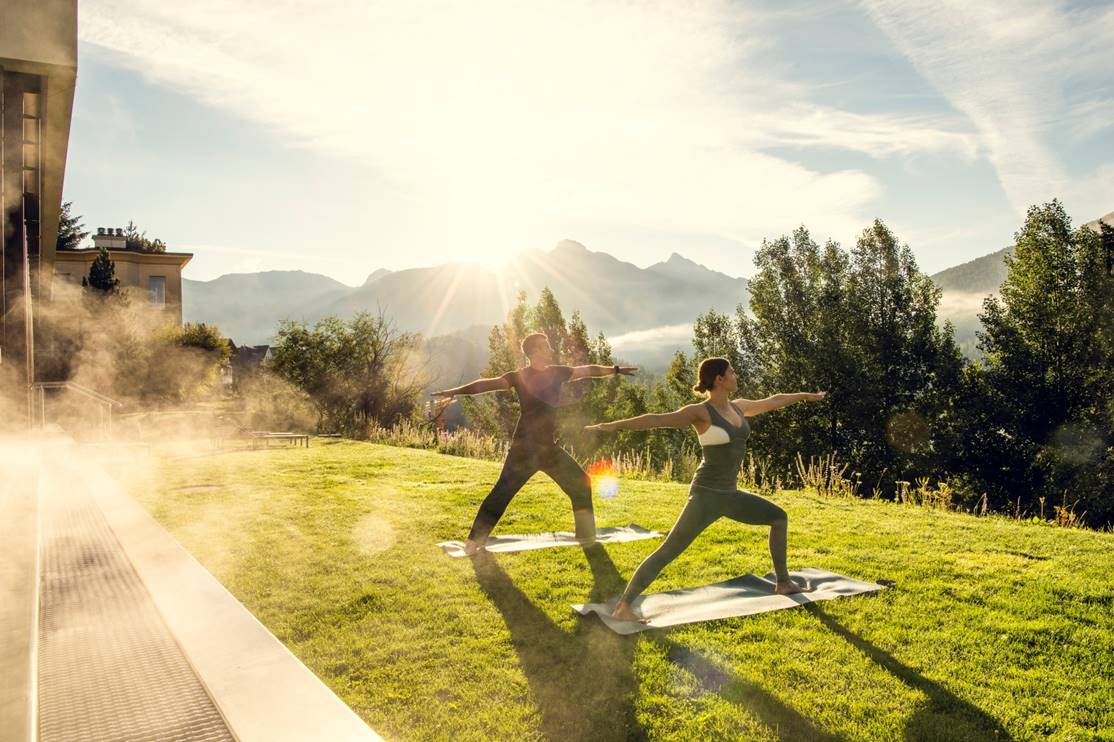 Spa and Fitness
Kulm Spa St. Moritz:
Guests of the Kulm Hotel enjoy the completely redesigned Kulm Spa St. Moritz, a new approach to renewing body and soul. Based on a modern and harmonious design along with the latest wellness trends, the Kulm Spa offers a three-pillar wellness concept combining relaxation, detoxification and regeneration. Deceleration for body and mind is achieved while finding the inner balance. Spa specialists provide tailored treatments, catering to the individual preferences, by either using the harmonizing power of natural products or applying new high-tech active ingredients from biotechnological research. The result: more energy, vitality and joie de vivre.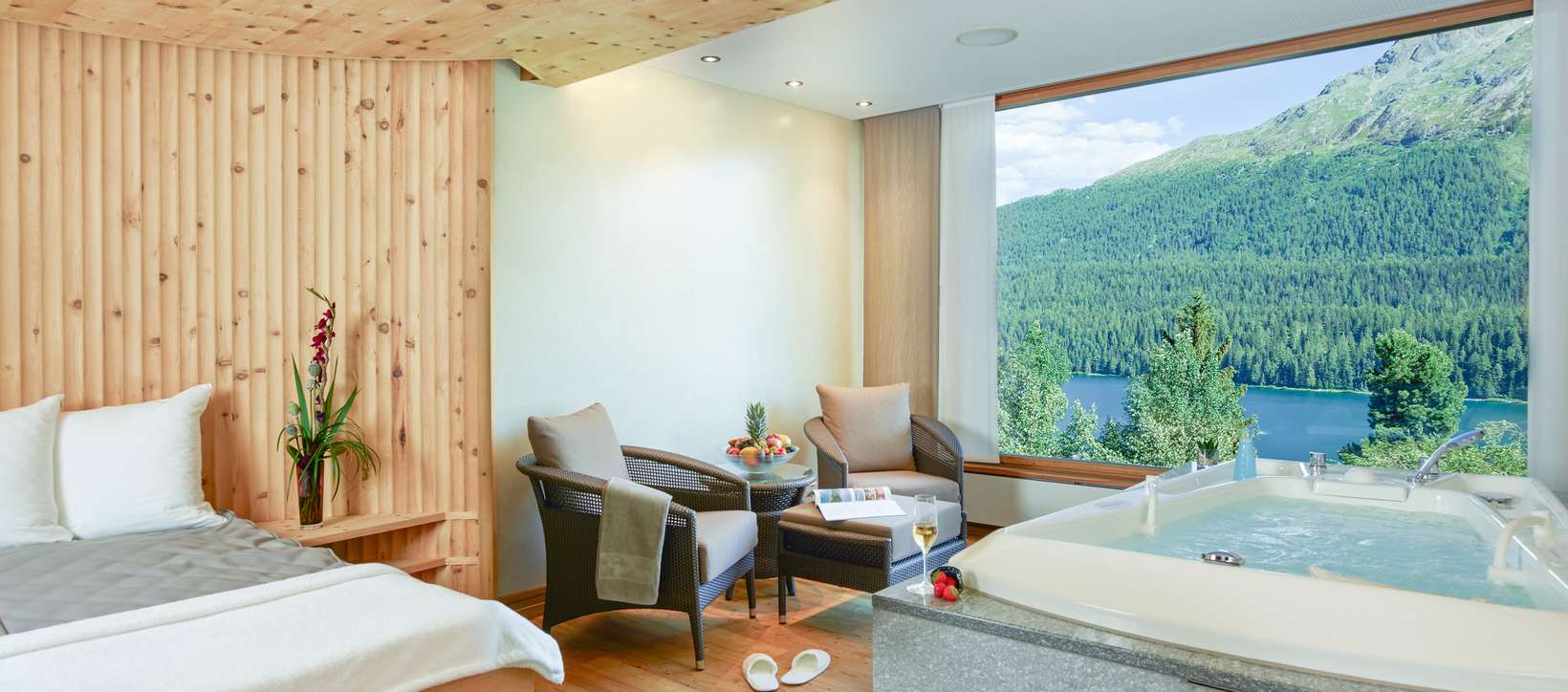 For an extra special treat, exclusive time for two can be found in the spa's Private Spa Suite while enjoying exquisite delicacies and a glass of champagne in the suite's private bio-sauna, steam bath, double water jet bathtub, and waterbed with incredible views of Lake St. Moritz and the surrounding Engadine mountains.
Fitness center: The fitness area includes state-of-the-art Technogym equipment. Highly professional staff members assist you with indoor and outdoor training programs for individuals or groups.
Pool area: The spa features a heated indoor swimming pool with panoramic mountain views and underwater music, an open-air pool, a children's pool, whirlpool, salt-water grotto, steam bath, a Finnish sauna, bio sauna, infrared cabin, Kneipp footpath and relaxation lounge with fireplace.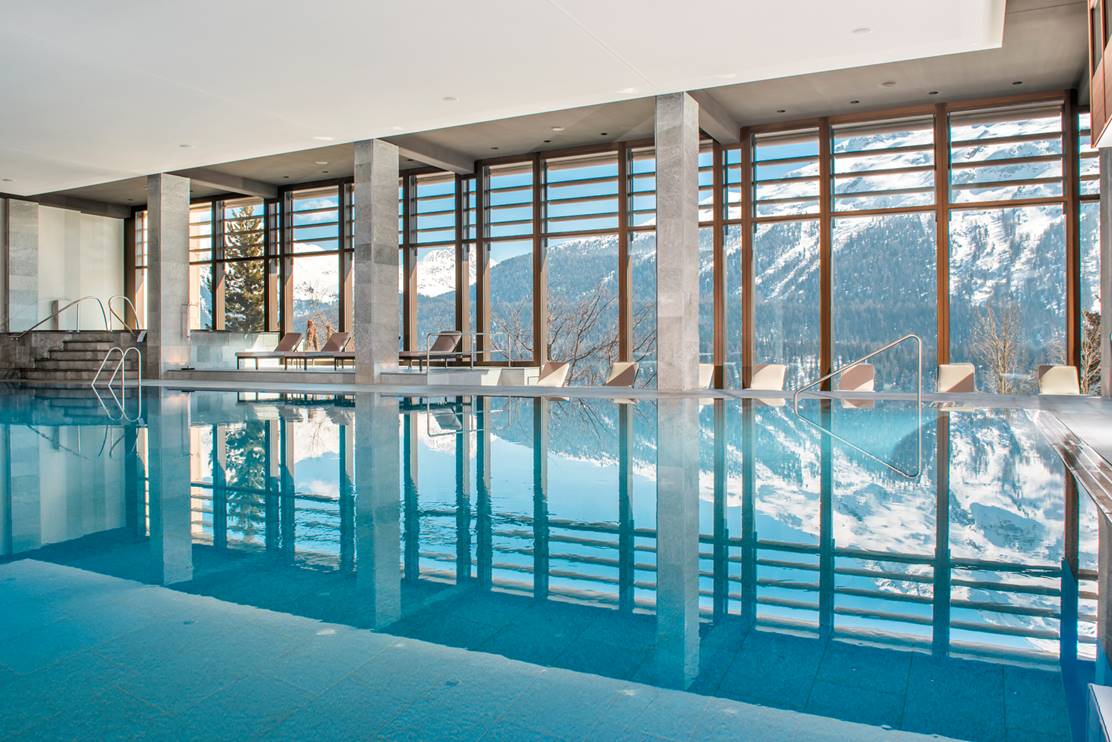 Sports and Leisure
Winter Sports: Every winter sport imaginable is at the Kulm Hotel's doorstep, including downhill and cross-country skiing, snowshoeing, an ice rink on the hotel grounds, plus the Olympic bobsled and Cresta runs. The hotel's ski room features storage lockers assigned to each room, and heated rods to dry boots, gloves and helmets ensure that guests hit the slopes each morning warm and dry. The on-site ski shop allows guests to enjoy the best equipment possible with the latest skis, snowboards and boots for rent directly at the hotel.
Tennis: In the warmer months, active travelers can avail themselves of three outdoor tennis courts in Kulm Park.
Golf: A recent upgrade and redesign of the hotel's golf course – the oldest in the Alps – will give golfers much to be pleased about. Suitable for beginners and pros alike, the Par-27 golf course is only a two-minute walk from the hotel and is ideal for a short game. Golfers holding the Platzreife licence (for playing on German golf courses) or equivalent are welcome to play here and enjoy the very best views of Lake St. Moritz and the surrounding mountains. 9 holes, par 27, putting and chipping green, driving range with 16 teeing grounds, partly sheltered.
Other warm-weather options: Among the many possibilities are hiking, bike riding and excursions to nearby attractions, including mountaintop vantage points, the Italian village of Tirano, and more.
Shopping: The shopping area of St. Moritz starts right at the back of the hotel. Here guests will find international shops and boutiques with world-renowned names.
Bridge: The Kulm Hotel's bridge hostess gives lessons and arranges for partners daily in the high season.
Game room: A playroom for children and adults – with table-tennis, table soccer, pinball, video games and more – is located on the ground floor of the New Kulm wing.
Families/children's activities: A varied, quality program will make a stay at the Kulm Hotel pleasant and enjoyable for children and their parents alike. Most rooms can be connected by door, which makes them particularly suitable for relaxed family holidays.
Marmotta VIK Kid's Club: Children of all ages will find a large choice of play and entertainment opportunities at the "Marmotta Club." Children ages 3 and up are supervised by the hotel's own kindergarten-trained play leader. There is a varied weekly program with exciting children's attractions and plenty of stimulating entertainment. Free sports camps for children from the age of 6.
Top Selling Points for Kulm Hotel St. Moritz
The "cradle of winter sports" – St. Moritz's first hotel, the first to promote winter tourism, and host of the 1928 and 1948 winter Olympic games.
The expansive, 2,000-square-meter, two-story Kulm Spa, completely renovated in 2013.
Individually decorated guest rooms that reflect the hotel's Engadin setting in distinctive wood details, a number of which have been completely redesigned and renovated by star architect Pierre-Yves Rochon.
High employee-to-guest ratio.
General Manager Heinz Hunkeler, a St. Moritz native with a lifelong connection to the Kulm Hotel through his father, who also once managed the hotel.
Central location in St. Moritz village.
Interiors that are continuously refreshed between seasons.
The gourmet restaurant, "the K by Mauro Colagreco ," with 1 Michelin star.
Distinctive event space for meetings of up to 200 and banquets of up to 500 guests.
Click here for a quick video getaway to the winter wonderland of Kulm Hotel St. Moritz
Top St. Moritz Selling Points
World-famous winter sports destination, site of two Olympic games (1928 and 1948). Home to world-class downhill skiing, snowboarding, cross-country skiing, sledging, ski jump ramp, ice skating, and Olympic bobsled and Cresla runs.
A "champagne climate" with more than 320 sunny days per year.
A wealth of summer sports including golf, tennis, hiking, biking, wind-surfing, and sailing, among others.
World-class cultural activities including opera, gourmet and music festivals.
Spectacular setting in the Upper Engadin lake country, 1,856 meters above sea level.
Charming, cosmopolitan village filled with restaurants, nightlife, international shops and boutiques.
Excursions to mountain-top vantage points, the Italian village of Tirano, and more.
Click here for a quick video getaway to the winter wonderland of Kulm Hotel St. Moritz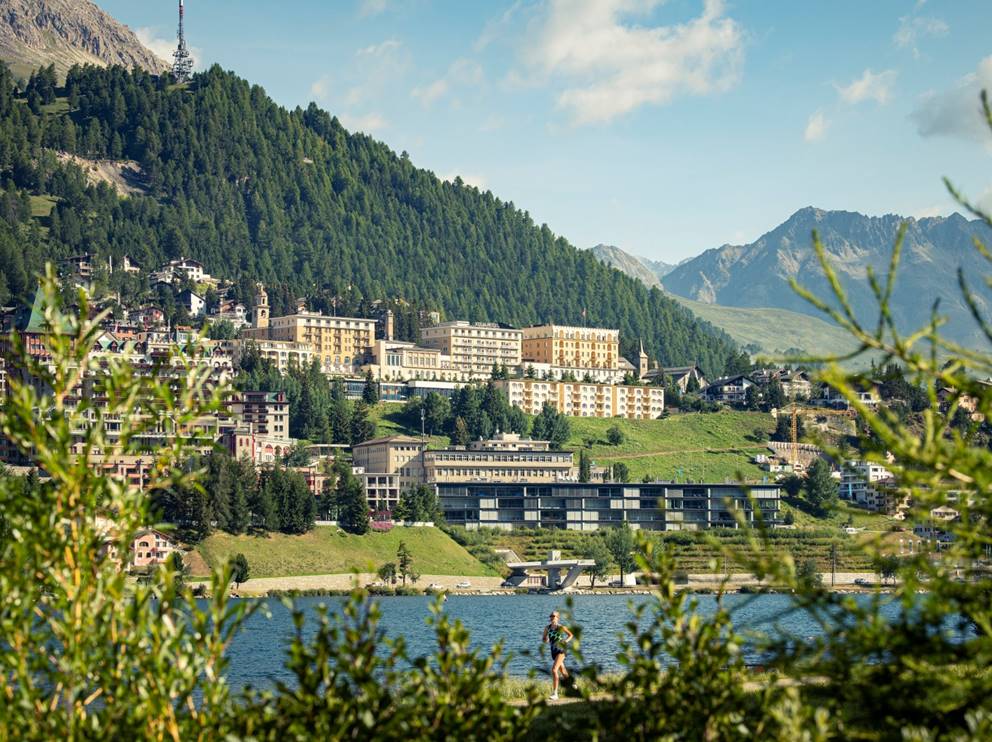 Hotel Promotions
Click here for a full listing of Special Promotions at Kulm Hotel St. Moritz
Kulm Hotel St. Moritz
Via Veglia 18 CH-7500 | St. Moritz, Switzerland
Phone:
+(41) (0) 81 836 80 00
Fax:
+(41) (0) 81 836 80 01
General Manager:
Mr. Heinz E. Hunkeler
Director of Sales & Marketing:
Katja Schneider
Director of Sales & Marketing Email:
GDS CODES:
Sabre: LW 12175
Galileo/Apollo: LW 87863
Worldspan: LW 1614
Amadeus: LW SMV614
Reservations
Open:
End June - Mid September; Mid December - Mid April
Airport:
Zurich Airport - 200 km / Milan Airport - 175 km / Munich Airport 280 km