The American Colony Hotel
Property Description
"In a class by itself."~ The New York Times

#3 Hotel in Israel – "5 Top Hotels in Israel" Listing
~ Condé Nast Traveler Reader's Choice Awards 2023
Travelers' Choice Award 2023
~ Tripadvisor
Best Hotel for Business Travelers – Middle East 2022
~ CNBC Travel
Israel's Leading Boutique Hotel 2021
~ World Travel Awards
For more than one hundred years, the American Colony Hotel has been an oasis in the heart of Jerusalem for discerning travelers from around the world. Lawrence of Arabia, Winston Churchill, Bob Dylan, Uma Thurman and Natalie Portman are among the famous guests who have passed under its classic Arabian arches, and it is a favored meeting spot for international journalists and diplomats.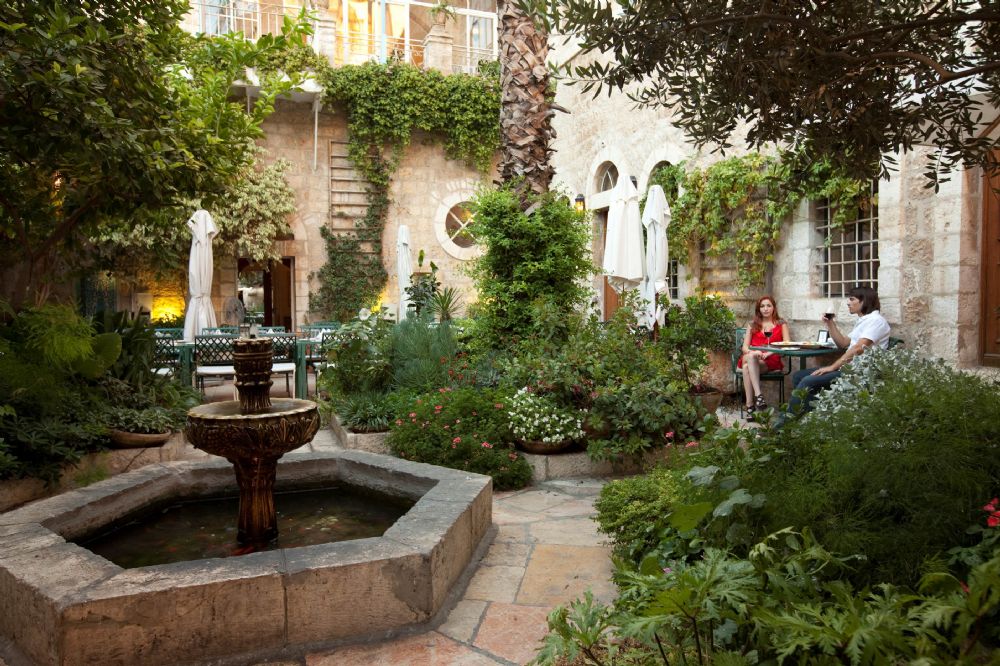 Originally a palace built for a pasha and his wives, then a haven for a community of American and Swedish colonists, the American Colony welcomed its first hotel guests in the early days of the 20th century. It is still owned today by descendants of its founders.
Throughout the hotel, east-meets-west design details create an exotic ambiance steeped in romance and history. There are 92 rooms and suites in four buildings, each graced with its own gardens and the finest amenities, from Frette linens to complimentary WiFi. The most exquisite is Room 6, a spacious suite built for the pasha's fourth wife. Renovated using historic Swedish fabrics, it is distinguished by its high, hand-painted ceiling, private terrace and canopied four-poster bed. The Cow Byre, a former barn and later a forge, is ideal for extended-stay guests. Its homey, apartment-style suites feature kitchenettes and family areas formed by connecting rooms.
At the American Colony's world-class restaurants, guests feast on fish delivered daily from the Old Jaffa Port, produce and olive oil from local farms, herbs from the hotel's own garden, and home-baked breads. There are outdoor bars tucked into gardens, intriguing shops, shaded courtyards, a fitness center and sauna, and a seasonal, heated outdoor pool.
The hotel is within 10 minutes of the Damascus Gate in the Old City and an easy stroll to all of Jerusalem's major sights.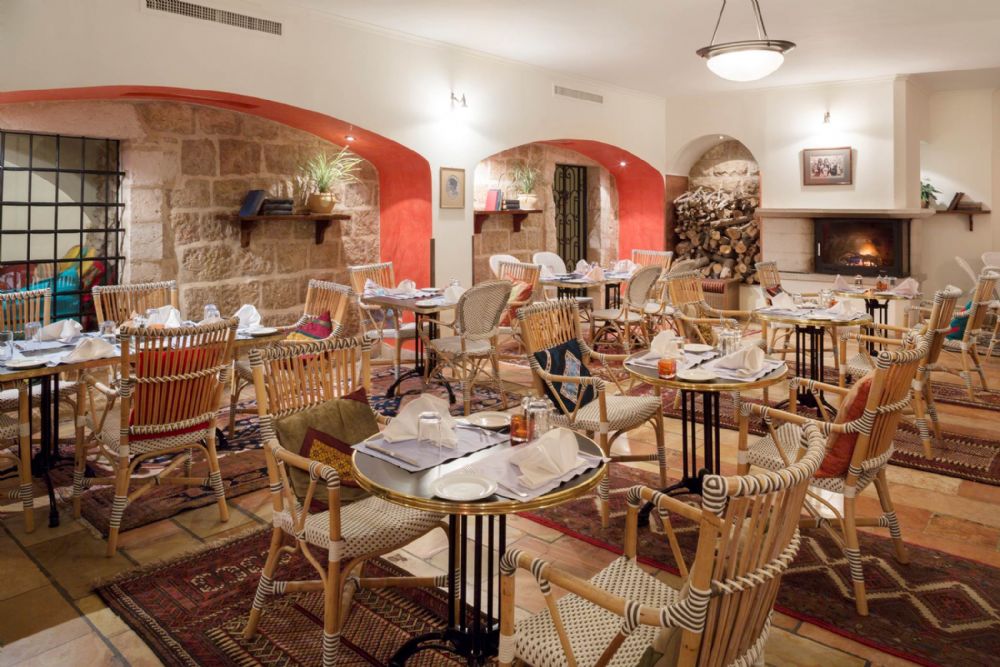 Arabesque: The hotel's signature restaurant serves exceptional Mediterranean and Arabic cuisine, complemented by an award-winning wine list.
Val's Brasserie: In this cozy, informal setting, patrons enjoy views of the pool and the warmth of a fireplace as they dine on local and continental specialties.
Cellar Bar: This legendary Jerusalem gathering spot is a favorite of journalists, hotel guests and locals.
Terrace Café: A central spot for guests to enjoy a cappuccino, refreshing drink or quick sandwich while watching the comings and goings of the hotel.
The Courtyard: Tall mulberry trees shade this popular al fresco setting for inspired Mediterranean fare by a cooling central fountain.
Summer Bar: Tucked into a tranquil garden, this seasonal bar serves charcoal-grilled meats and fish, the freshest produce, and cocktails under the stars.
Pasha Room and Pasha Terrace: Equipped with the latest technology and steeped in historic ambience, the Pasha Room and Terrace cater to Jerusalem's most distinguished social and business events, from birthdays and anniversaries to board meetings and international conventions.
Business Center: Provides computer terminals with complimentary internet access and a full array of business services.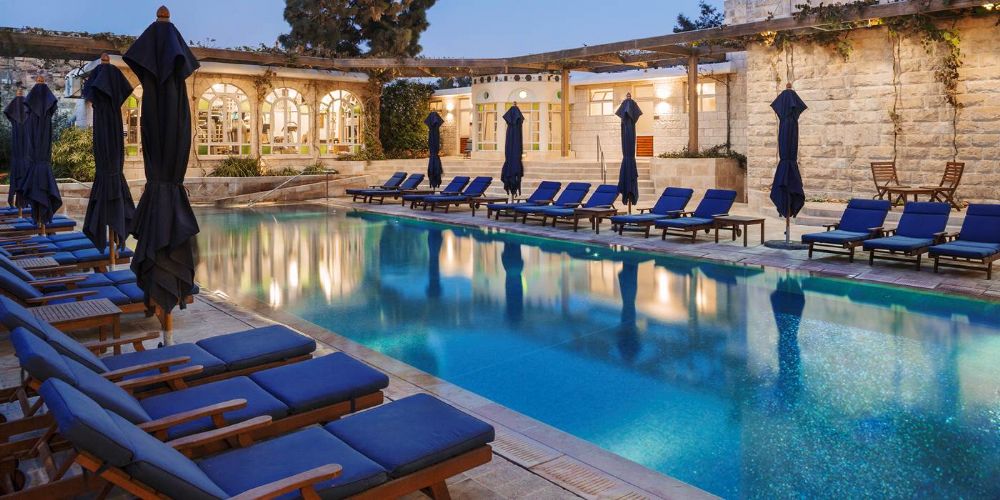 Swimming pool: Hotel guests enjoy exclusive access to the American Colony's spectacular heated outdoor lap pool. Complete with cascading water features, the pool is made of Jerusalem stone and lined with Italian glass tiles. Open May through October.
Fitness center: The hotel's fitness center features all the equipment guests need to maintain their fitness routines, including treadmills, spinning and free weights.
Sauna: A Swedish-style sauna is located adjacent to the pool area.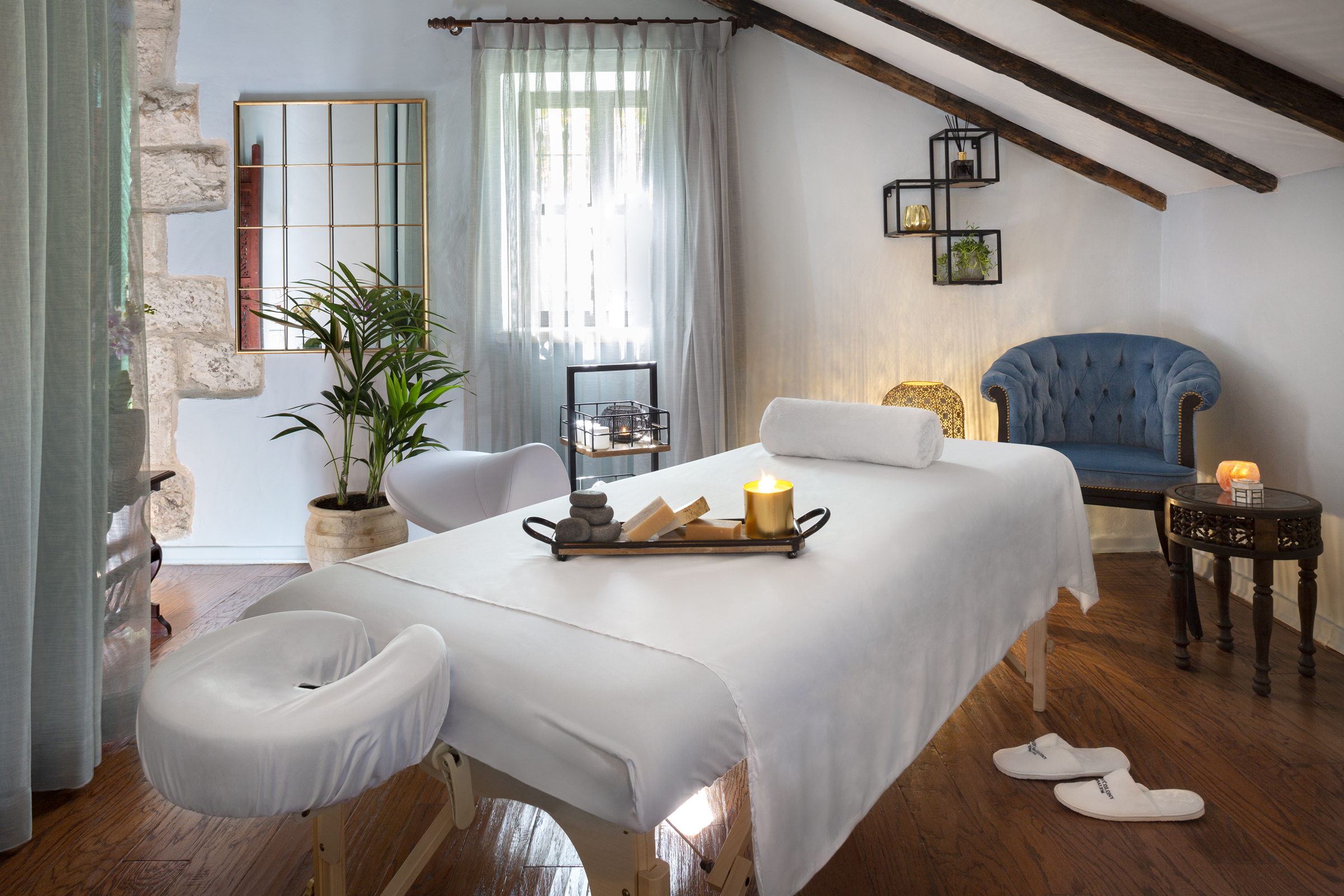 Massage Villa: With treatment rooms designed for relaxation and set within a beautiful historic stone villa, the Massage Villa is the place for guests to be pampered in their own personal Garden of Eden.
Shops: Guests can browse an eclectic array of shops at the American Colony Hotel. Munther's Book Shop is stocked with contemporary fiction and books about local history and culture. Munir Barakat "Antiquarian" features Middle Eastern antiques, artifacts and carpets; while the Print Shop offers historic prints from the hotel's own archive.
Top American Colony Hotel Selling Points
An award-winning history, including Israel's Leading Boutique Hotel 2019 by World Travel Awards (for 6 years in a row).
Located in the heart of Jerusalem, a 10 minute walk from the Damascus Gate in the Old City, 45 minutes from the sunny beaches of Tel Aviv and the rejuvenating waters of the Dead Sea, and a short flight from most European cities.
A landmark heritage hotel with a rich and intriguing history dating back to its beginnings as the palace of Pasha Effendi El Husseini, its turn as home to a colony of American and Swedish ex-pats, and its early 20th-century transformation into a luxury hotel.
A famous guest list ranging from Winston Churchill to Bob Dylan, and a favored meeting spot for international journalists and diplomats.
Room 6, a spacious suite graced with historic Swedish fabrics, a high, hand-painted ceiling and private terrace, that once housed the pasha's fourth wife.
Spacious, individually decorated rooms and suites with fine amenities including complimentary WiFi and luxurious Frette linens.
Pasha Hall, a newly renovated meeting/banquet room with a beautiful, authentic painted wood ceiling, expansive windows, and the latest technology.
Cellar Bar, a legendary watering hole for journalists, hotel guests and locals alike.
An oasis in the heart of Jerusalem, with classic Arabian arches, East-meets-West design, and tranquil garden courtyards.
Top Jerusalem Selling Points
One of the oldest cities in the world, originally settled in the 4th millennium B.C.
The walled Old City — a World Heritage Site and home to the three monotheistic religions, which are represented by Church of the Holy Sepulcher, the Western Wall, and Al Aqsa Mosque.
Israel Museum, home to the Dead Sea Scrolls.
Yad Vasher, the Holocaust Memorial, with the world"s largest collection of Holocaust-themed materials.
World-class arts and culture, including the Jerusalem Symphony Orchestra, Israel Philharmonic Orchestra, Israel Festival, and more.
Day trips to Bethlehem (30 min.), Tel Aviv (1 hr.) The Dead Sea (40 min.) and Nazareth 2 hrs.)
A climate marked by mild winters and beautiful breezes in spring and fall.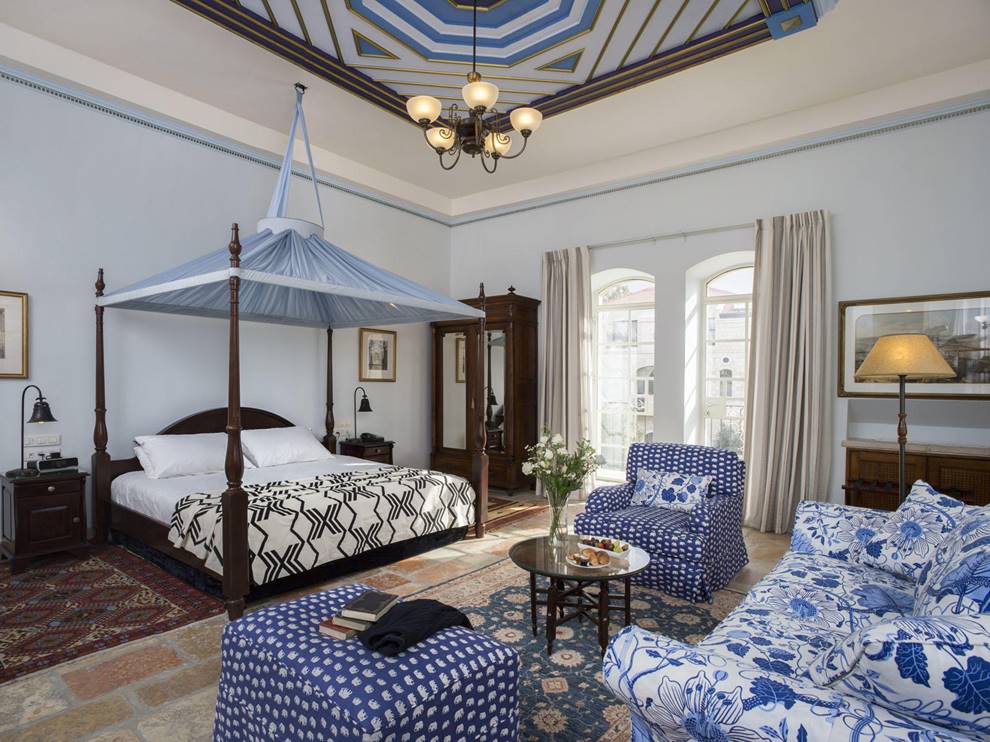 Click here to check current rates and availability at The American Colony Hotel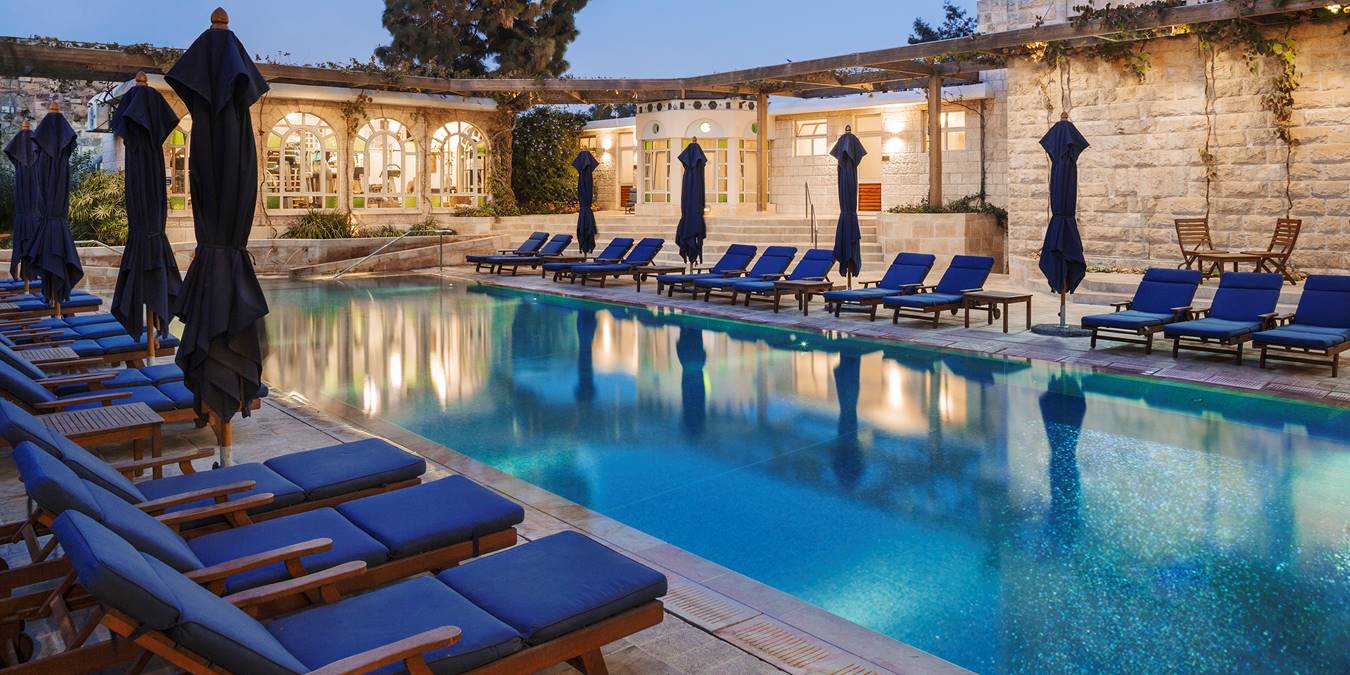 Hotel Promotions
Click here to check current rates and availability at The American Colony Hotel
The American Colony Hotel
1 Louis Vincent Street, 97200 | Jerusalem, Israel
General Manager:
Guy Lindt
Director of Sales & Marketing:
Moshe Elazar
Director of Sales & Marketing Email:
Affiliations Information
Small Luxury Hotels of the World
Reservations
No. of Rooms:
92 rooms and suites
Currency:
U.S. Dollar (US$)
Credit cards:
Visa, MasterCard, Diners Club, American Express
Airport:
Ben Gurion Airport approx. 45 minutes by car