One more train ride (with a connection in Bologna Centrale) took us now from Florence to the picturesque and charming city of Verona and the Due Torri Hotel, perfectly situated on Piazza S. Anastasia next to the beautiful Church of Santa Anastasia.
After a quick check-in and settling into our room, we headed out to explore the town (another benefit of traveling by train between these cities is that the rides are quick and comfortable enough that you arrive at your next destination ready to head out and explore).
Here, again, all attractions are within walking distance of the hotel, and we had the opportunity to visit them all. A short stroll along Corso Sant'Anastasia led us to Piazza dei Signori with its shops, restaurants, cafès and outdoor merchants. After browsing the wares of the local artisans and enjoying some hot tea and brioche at a nearby Pasticerria, we continued on to Juliet's Balcony for the mandatory visit and photo, and onto the impressive Roman arena, Arena di Verona, which dates back to the 1st century AD and still hosts events to this day, most notably the Arena di Verona Opera Festival during the summer months.
(The Due Torri Hotel is offering a one-of-a-kind experience this summer with their special VIP Opera Package for groups and families, including exclusive use of a private arch of the arena for the night and private cocktail service during the performance.)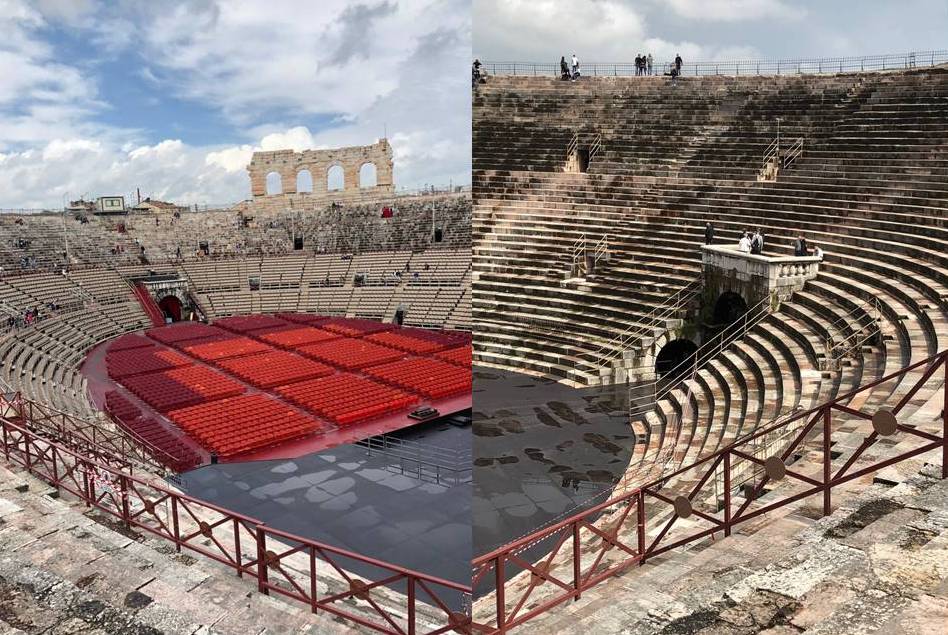 As the Arena is situated directly on the wide-open Piazza Brà, this is a great space to stop mid-journey to grab a bite at one of the many open-air tables at the restaurants along the Piazza or a Juliet-inspired rose-shaped gelato to enjoy on one of the benches along the park in the center of the Piazza (which we chose to do).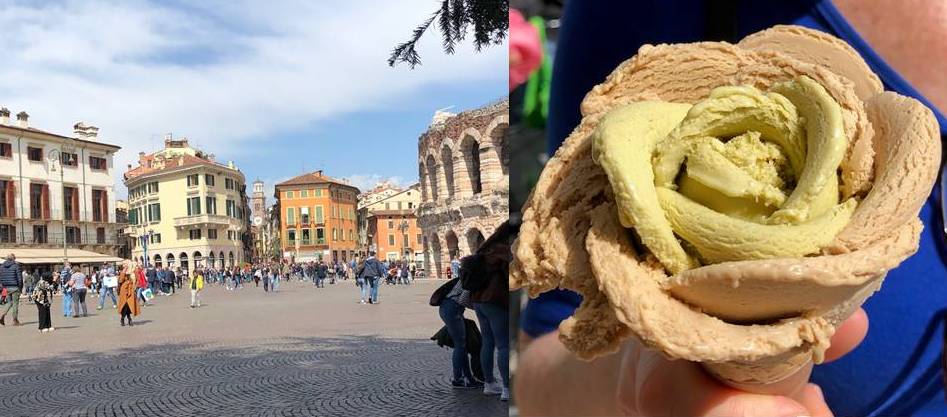 After enjoying our gelato and sharing a bench with a local father and son out for the day (all of us managing to communicate with our broken Italian/English), our journey continued over to Castelvecchio (a medieval castle built in the 1350's as a fortified control center on the Adige River) and a walk over its impressive three-arched bridge. There are views from this vantage point that are not to be missed and are stopping posts for most tourists itching for that lovely shot of Verona and the Adige River.

And speaking of views, when your journey finds you back at the hotel, the view from the Rooftop Panoramic Terrace and Gourmet Grill Restaurant at Hotel Due Torri (during warm-weather months and weather permitting) is another must-see.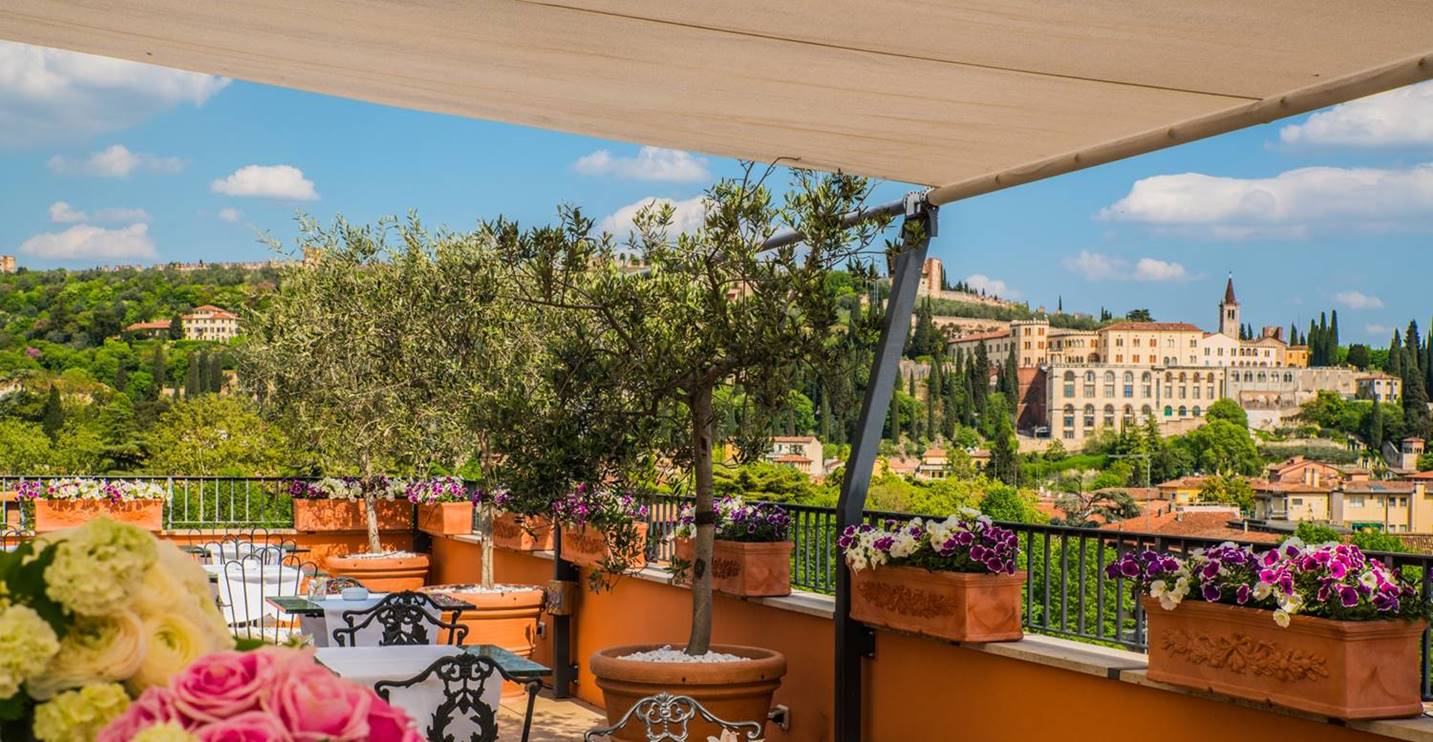 The Lobby Lounge and Restaurant at Due Torri Hotel is also a place of beauty and comfort where you feel like you have been transported back in time with its pillars and architectural elements dating to the 14th century. The piano music that greets you as you enter the hotel lobby in the evenings just further contributes to the atmosphere of timeless elegance that this hotel exudes.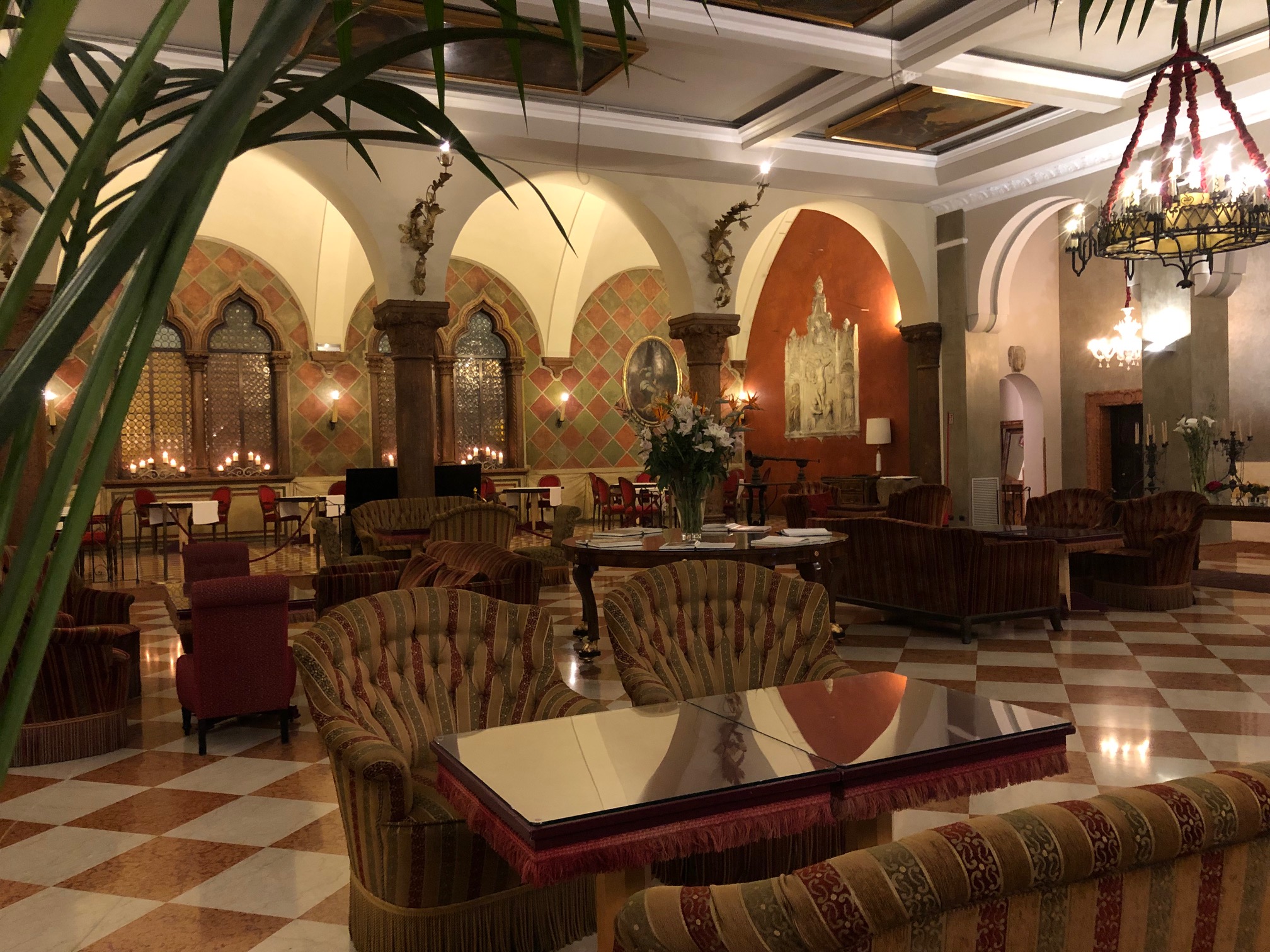 This is, actually, another hallmark of the hotels of the Duetorrihotels Collection – many of the spaces in the properties are museums in and of themselves: the 15th century frescoed ceilings of I Caracci Restaurant and the ancient Roman road remains at Grand Hotel Majestic "già Baglioni" in Bologna; the frescoed ceilings of the Sala Parlamento breakfast room (former meeting place for members of Parliament and the Senators of the Kingdom of Italy) at Hotel Bernini Palace, Florence; the historic architectural elements in the Lobby Lounge and Restaurant at Due Torri Hotel, Verona. Being in these spaces during your stay serves to elevate your overall state of being in a way that can't be explained or put on paper…it's beauty and history at every turn and you feel uplifted just being a part of it during your time of residence at each hotel.
All in all, one of the strongest impressions of Verona for me was that this is a town that exudes charm and prettiness. I found myself using that word over and over. It's just downright pretty! Not in a showy or ostentatious kind of way, but in a way where, perhaps, thoughtfulness and joy combine to produce design and ornamentation that exude a sense of simple sweetness and prettiness. It shows itself in little details; little unexpected gifts along the way. This was a town where I found myself saying to my daughter as we'd pass different streets and buildings "I'm so grateful that the designer saw fit to go that extra mile…to add that beautiful metalwork design…to use that color". The prettiness of the place ignited that sense of gratitude in me.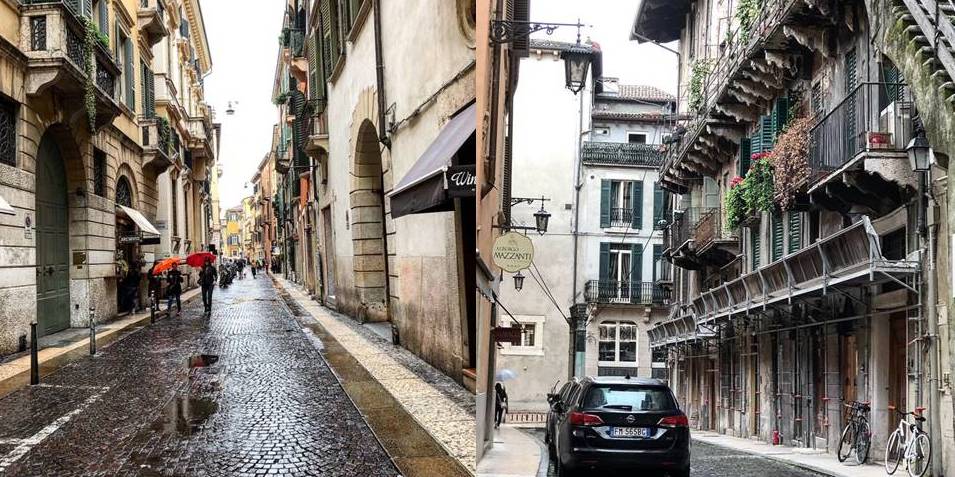 So many of the streets of Verona look as if they were staged and pulled off of movie sets. Verona is a beautifully-preserved town with a combination of quaint, narrow streets and wide-open piazzas. I, particularly, enjoyed the authentic Italian spirit we encountered here – locals hanging around the marble coffee bars sipping their coffee and chatting away, children playing in the grass at Piazza Brà, teenagers on school trips at Castelvecchio. You're given a glimpse into Italian lifestyle in an easy-going kind of way here, and it was a great way to round out our Italian adventure – an 8-night adventure across 4 Italian cities and 3 Duetorrihotels which found 2 generations of ladies engaged, interested and delighted every step of the way.
As we head to the airport and our tour of these three Duetorrihotels comes to a close, we take with us, among many memories and experiences, the joyful energy of Bologna, the intentional thoughtfulness of Florence and the sweet prettiness of Verona. Characteristics that it will serve us well to remember, to appreciate a bit more, and to strive to exude and share a bit more upon our return back home.
As we do, we say not "farewell", but "arrivederci", Italy! Until we meet again…