A 30 min. train ride from Bologna Centrale and a quick taxi ride from Florence's Santa Maria Novella train station found us now at the door of Hotel Bernini Palace – located directly on Piazza San Firenze and steps from Piazza della Signoria.  What a treat – this location!  Open space, spots to sit and luxuriate, cafés with (of course) outdoor dining, and romantic evening lighting.   The Duomo, Palazzo Vecchio, Ponte Vecchio, Uffizi Gallery, Basilica of Santa Croce, and then some, are all within walking distance.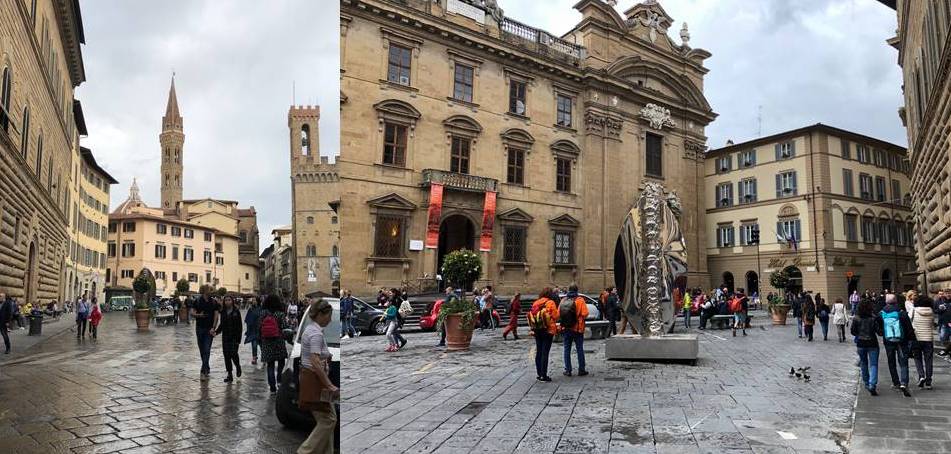 If the view from street level was pleasing, I cannot say enough about the view from our Junior Suite. After being swept into the warm, welcoming lobby by the attentive Front of House staff for a quick check-in, we were brought to our room by Lorenzo – Head Concierge (and part of the renowned International association "Les Clefs d'Or", as are all of the concierge staff at the hotel) – who took the opportunity as we walked to talk about the current state of sightseeing affairs in Florence – real-time updates on availability of tours and tickets, detailed information on a range of options for each – private tours, group options, different tour combination possibilities. If there is something to do in Florence, Lorenzo knows about it and is prepared to share his wealth of knowledge with you at any stage of your journey – whether at the time of booking, any time prior to arrival, or upon arrival – to turn your wishes into reality.
After making sure that we had all the information we needed to plan our days' activities, we were introduced to our beautiful Junior Suite and the incredible view out of our French windows…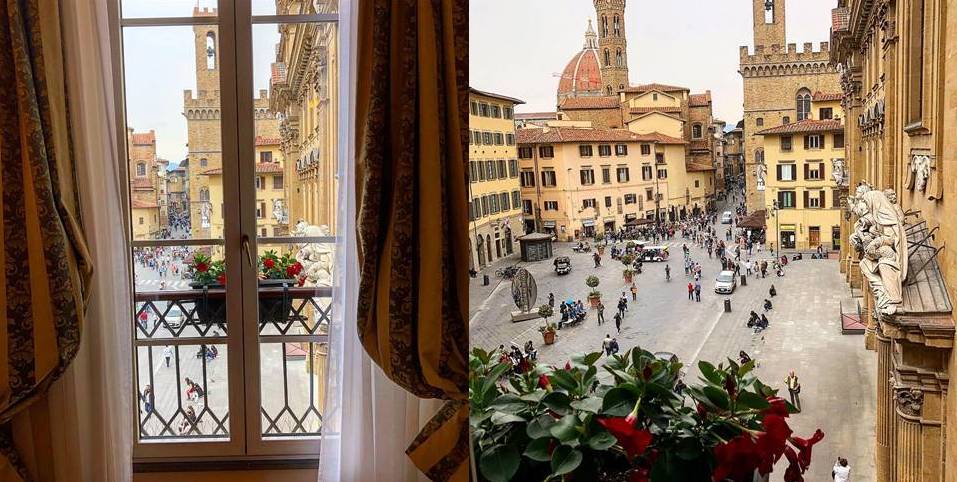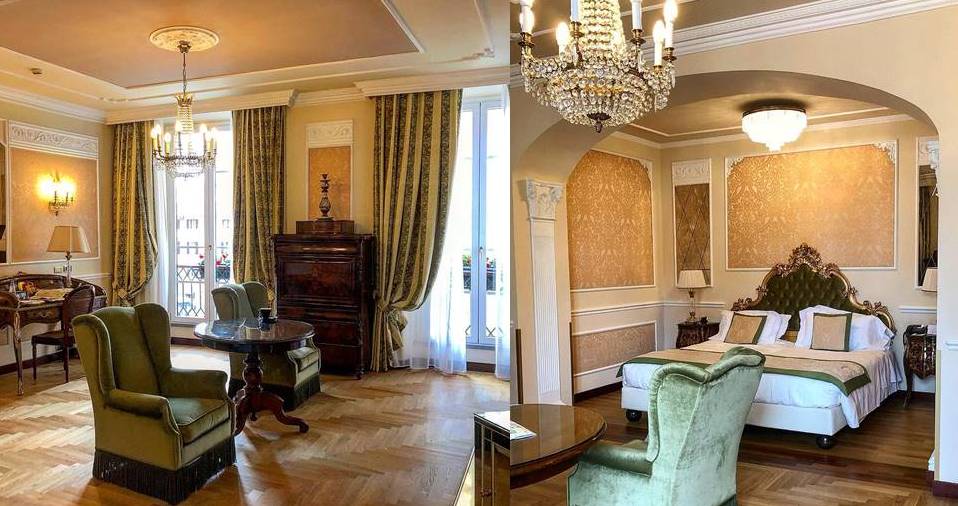 The Duomo and towers before us and the sights and sounds of the street below us ensured that we were never far from the beauty and energy of Florence. I still hold the memory of opening those windows and taking in that energy with me to this day (not to mention the sound of those beloved church bells ringing through the town)!
Even when waiting out a passing shower in the hotel lobby later on that day, the allure of Florence was still within our sights.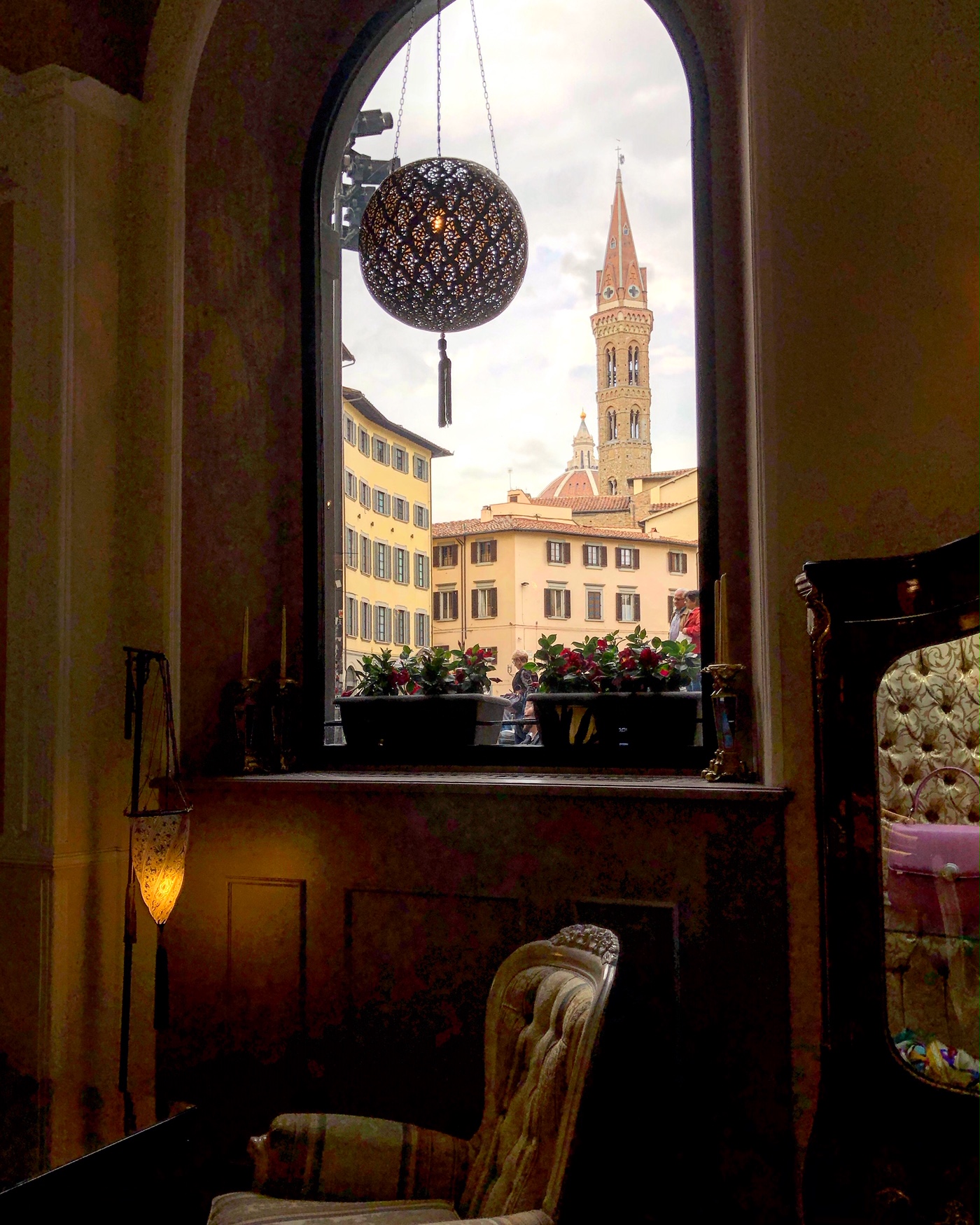 While there are a fair share of "touristy" dining spots in Florence, if you are looking for authentic, quality eateries, there is certainly no shortage – starting with the hotel's very own Restaurant La Chiostrina. Located in an internal renovated courtyard of the 16th century, La Chiostrina offers a unique and exclusive quiet space in the heart of the city, as well as a versatile and innovative menu that is updated on a monthly basis.
While on the subject of dining, I would be remiss if I did not mention another highlight of a stay at the Duetorrihotels, and that is the breakfast – a sumptuous buffet of hot and cold offerings (including cakes and pastries local to each region) served in lovely settings at each hotel (see photo of Bernini Palace breakfast room – Sala Parlamento, below). Here again, the service is also impeccable and the combination of great food, beautiful surroundings and outstanding service ensures that each day of your stay begins on a high note.

Florence is one of those cities where advance ticket purchase and/or tour organization for some of the more popular sights (such as the Uffizi Gallery, Galleria Dell'Accademia, the museums of Museo del Duomo) are highly recommended, since you can easily spend a good chunk of your time waiting on line for tickets should you not do so. There is so much art and history to soak up in this city that it really does serve one well to pre-plan as much as possible if checking off all of the top "to-dos" are an important part of your visit (and, of course, the hotel's concierge staff can help in that regard, not to mention arrange for any of the exclusive proposals the Hotel Bernini Palace has on offer at any given time, currently including shopping and Tuscan wine excursions, a hot-air balloon experience, truffle hunting, a Florentine gondola trip and a farm experience sure to please young and old guests alike). But, I can also say that some of the less-crowded sights remain some of my favorites as well.
Palazzo Vecchio, for instance (just one block from Hotel Bernini Palace on Piazza della Signoria), stuns with artwork and architecture spanning multiple eras, not to mention large mural paintings by Leonardo da Vinci and Michelangelo Buonarroti.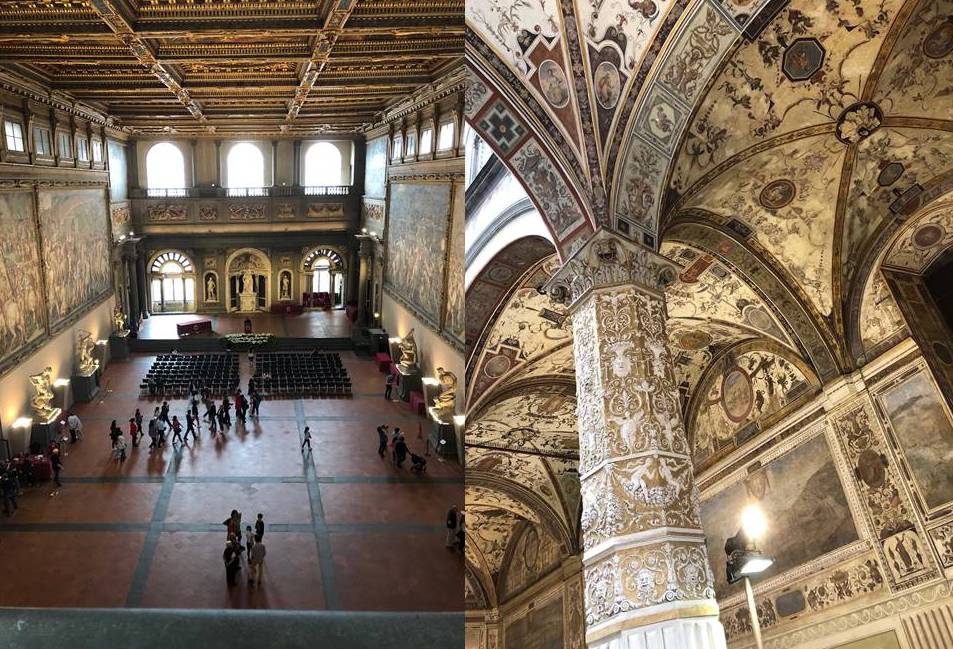 And the Basilicia of Santa Maria Novella remains one of my absolute favorites – a destination including church, museum and cloisters that is home to countless masterpieces and centuries-old works of art from a wide collection of artists, beautifully preserved historic religious artifacts, stunning architecture and outdoor spaces– this place has it all – beauty at every turn. Allot a bit more time than you think you might need for this one is my recommendation. Not because you will have a long wait, necessarily, but because it is best slowly soaked in and absorbed, there is so much to take in.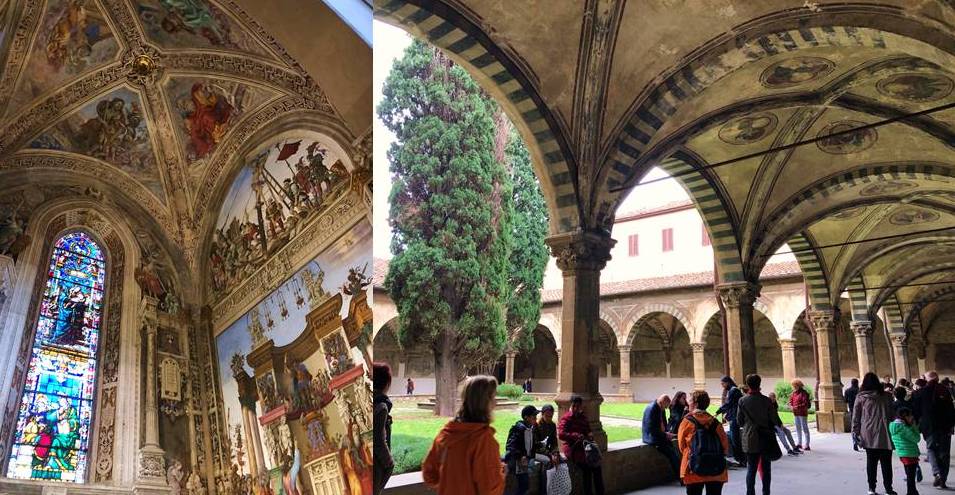 What was also a really nice jaunt was Piazzale Michelangelo, on the other side of the Arno River with incredible views of Florence (as well as the views we caught along the way as we walked here from the hotel – crossing over the Ponte alle Grazie). I must confess, I was a bit unsure about whether to do so when looking at the map and when hearing stories of the challenges of the walk, but for most I'm sure it is entirely walkable. I'm an asthmatic and had to stop just once, and only at the end of our walk when climbing the final steps to the top. The rain clouds came just as we made it to the outlook, but, thank goodness, we did get to experience that beautiful view before we were rained on. I highly recommend this visit – especially if you are able to allow yourself (weather permitting) the time to luxuriate and, once again, take it all in. It's gorgeous.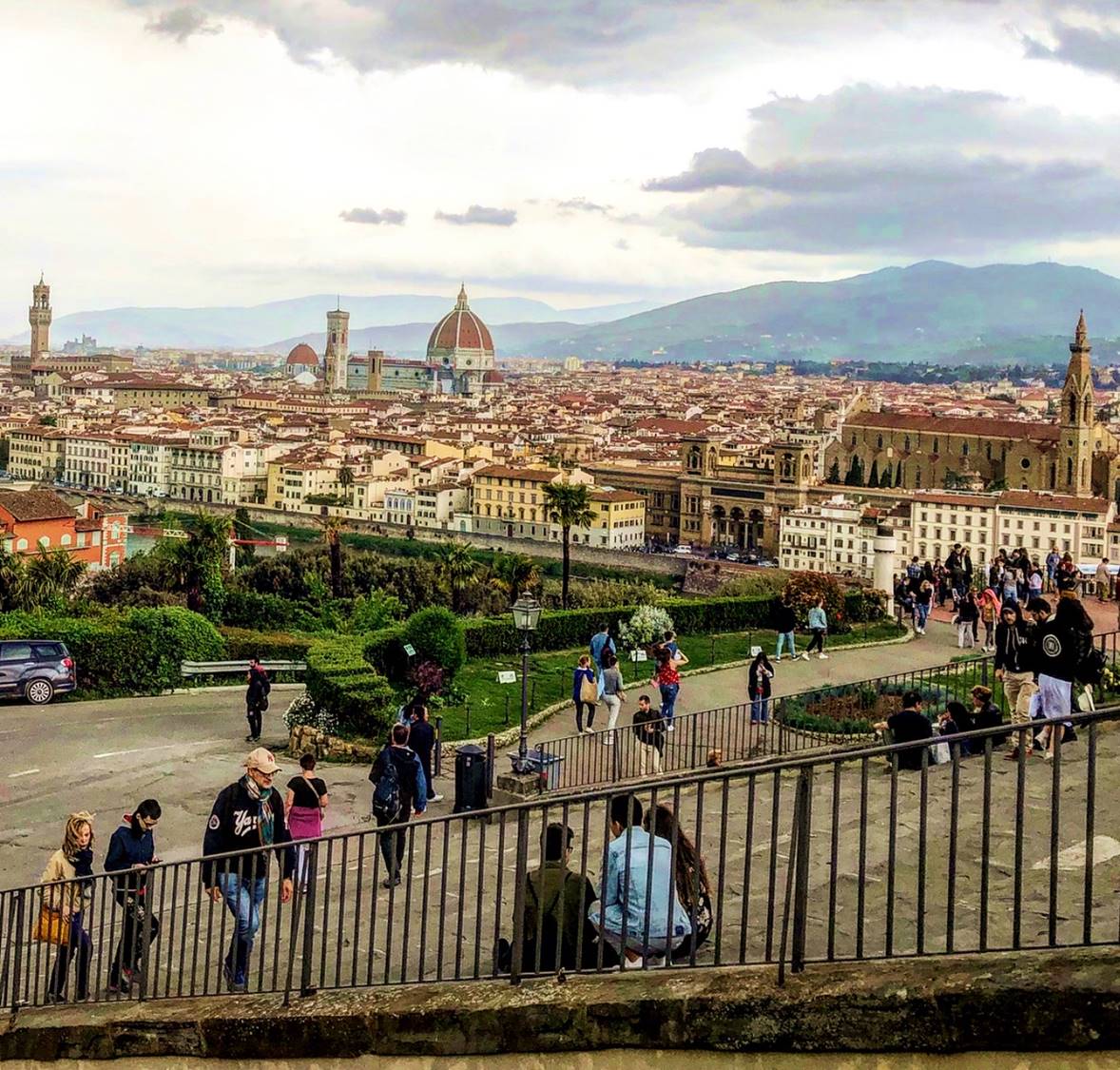 If I had to sum up what I take most with me from my Florentine experience, it would be the seriousness or the thoughtfulness of Florence. Everything about Florence seems deliberate and intentional, and there is something elusively comforting about that as one is so deeply connected to the thoughts and desires of those artists and designers from centuries prior in the gifts they have left for us to admire and experience at every turn – not to mention the classically trained street performers of today providing the perfect backdrop music as we walked about the town on numerous occasions…simply magical.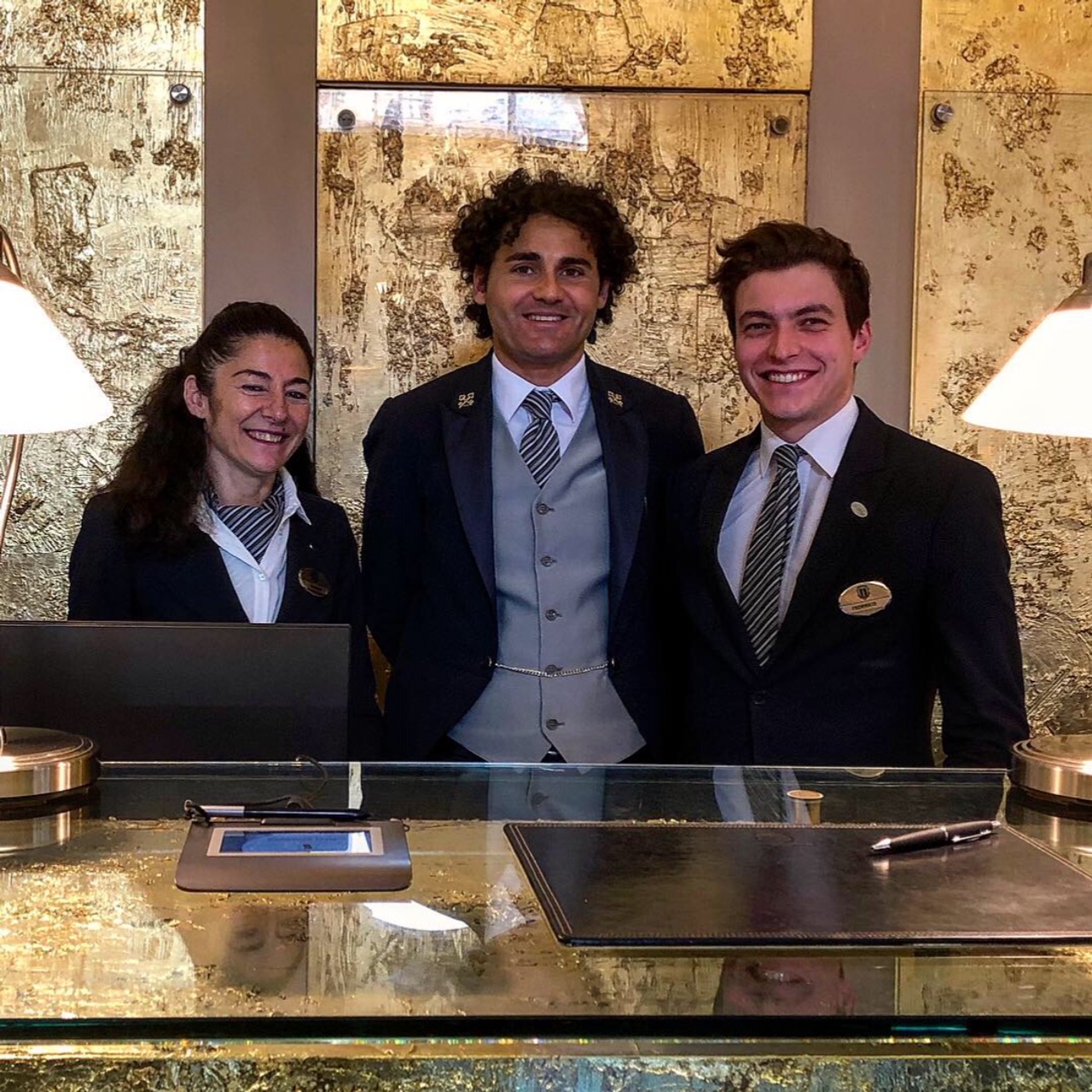 As we are bid farewell by the incredible Front of House staff at Hotel Bernini Palace, we take with us now the joy of Bologna and the thoughtfulness of Florence as we head to the final destination on our Italian itinerary…Verona.